With Mozilla, ZTE Plans a New Threat to Android
By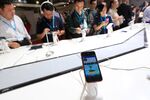 A week after the 11th-hour cancelation of an Acer smartphone powered by an operating system developed by Alibaba, another Chinese company has unveiled plans to create an alternative to Google's Android.
ZTE, the country's biggest maker of mobile phones, today announced that in December it will begin selling a smartphone using an operating system co-developed with Mozilla, the company behind the Firefox browser.
ZTE has been working on the operating system for a while. In February, He Shiyou, executive vice president of ZTE, told the official China Daily newspaper that the Shenzhen company was developing its own mobile operating system. ZTE is already the world's fourth-largest maker of mobile phones and is coming on strong in entry-level smartphones. The company is aware of the risks in the smartphone world, plagued by patent disputes involving heavyweights such as Apple and Samsung Electronics. "We will avoid relying too greatly on one single operating system," he told the China Daily.
The difficulties Alibaba has faced illustrate just how challenging it will be for ZTE or any other Chinese company to develop an alternative to Android. ZTE has its work cut out as it tries to make this operating system appealing to app developers. The company's plan is "a very unrealistic strategy," Pierre Ferragu, an analyst at Sanford C. Bernstein in London, told Bloomberg News in an e-mail. "Operating systems follow winner-take-all rules. How can an operating system limited to a small, low-end manufacturer gain traction ever?"
Still, Alibaba and ZTE aren't the only Chinese companies venturing into Google territory. Baidu, the Beijing company that dominates the Chinese search-engine market, has its own Web browser and an Android-based operating system. As the BBC reported in May, the Baidu-developed platform is powering the Changhong H5018.
"Baidu is recreating itself—we used to be a product-focused company, but now we are becoming a platform-focused company," Baidu spokesman Kaiser Kuo told the BBC.
Another Chinese Internet powerhouse, Tencent, is branching out, too. Last month, the Shenzhen operator of online games and China's most popular instant-messaging service, announced a partnership with one of the country's top producers of televisions, TCL Multimedia Technology, to develop software for its TVs that will allow users to go online to shop, game, and watch videos.
Like Alibaba and Baidu, Tencent wants to move beyond its strength in the PC world. "The company is working on ways to get its games played across a range of devices, from computers, smartphones, and other terminals," Dundas Deng, an analyst at Guotai Junan Securities in Shenzhen, told Bloomberg News.
Before it's here, it's on the Bloomberg Terminal.
LEARN MORE