USC Unveils Unique Business Program on Three Continents
Francesca Di Meglio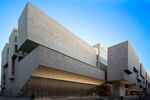 The University of Southern California's Marshall School of Business is launching a first-of-its-kind undergraduate business program that gives ambitious students a chance to earn degrees on three continents. The partnership between Marshall, Bocconi University in Milan, and the Hong Kong University of Science and Technology (HKUST) begins next year and is called the World Bachelor in Business. It's designed for students who have set their sights on a global business career.
"The kind of student who will take this knows that he or she wants to be an executive in a global world," says James Ellis, dean of USC Marshall. "This is someone who is focused. This is somebody who knows he or she won't be going to four years of football games and fraternity parties."
Beginning in fall 2013, 45 participating students will spend one year on each campus, choosing one of the three universities for the fourth and final year. Year one will be at Marshall, year two at HKUST, and year three at Bocconi. To be accepted into the program, applicants must meet the prerequisites of each school. They will have completed the requirements for a degree at each school when they graduate. Tuition for each leg of the program is set by the institution in question.
The students will be able to take advantage of the career placement offices of all three schools and recruiters have already shown an interest in future graduates, says Fulvio Ortu, vice rector and dean for international affairs at Bocconi. That's a selling point for students, say administrators.
"You will live in three different places in three different years," says Ellis. "What an opportunity to talk to potential employers and tell them what you've done."
The idea is to immerse students in the various cultures and ways of doing business in each region. While the courses will be taught in English, students will have the chance to learn Italian, an additional European language, and Chinese. They will get a firsthand look at the various economies and the unique perspective of each. Ortu imagines students in Italy, for instance, gaining a window on the difficulties of forming a union with a common currency—the euro—among countries with competitive cultures and ideologies. In the U.S., students will observe a country battling to maintain its economic supremacy. And in Hong Kong, students will witness history as Asia's emerging economies continue to grow.
It took a few years to organize and plan this degree program, says Ellis, because the curriculum had to be carefully crafted to include the requirements each school maintains for graduation. In addition, organizers had to devise a plan for accepting and enrolling applicants; they will have to gain admittance into each program before a joint committee makes a final decision.
Although such global partnerships are common for MBAs and EMBAs, this is a first for undergraduates. Behind the timing, says Leonard Cheng, dean of HKUST Business School, is the demand for young people with careers that span nations. "These are the three most important economic regions in the world—North America, Europe, and Asia," he adds. "We're offering the right ingredients to prepare students for the future global economy."
Join the discussion on the Bloomberg Businessweek Business School Forum, visit us on Facebook, and follow @BWbschools on Twitter.
Before it's here, it's on the Bloomberg Terminal.
LEARN MORE