MBA Applications: Timing Isn't Everything
Rose Martinelli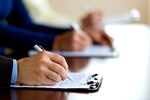 I'm always surprised at how quickly the application season begins in higher education each fall, particularly for the full-time MBA programs. Even before the new class arrives on campus, admissions is already out recruiting the next class. If you're planning to apply to MBA programs this year with the thought of starting next fall, you should consider what makes sense in terms of application timing. Most schools offer three deadlines and several others offer rolling admissions, which means that as long as you apply by a specific date, you will get your final decision within six to eight weeks of submission.
Here are a few pointers. Apply in Round 1 only if you've had adequate time to thoughtfully prepare and vet your application, including taking the GMAT, requesting recommendations, and compiling all the pieces. You should feel you are submitting your best effort rather than rushing to meet a deadline that may or may not provide you with any advantage. Remember: Schools are looking for the best candidates who fit their particular programs, regardless of the timing of an application. Also, a number of programs have a binding early decision round; if you're not sure which school is the best fit for you, avoid applying during that round for those particular schools.
As you probably know, the vast majority of applicants apply in Round 2. Again, make sure that you are presenting your best effort when you apply. If you're not ready for that round, consider holding off to the last round or delaying your application until the following year. True, it is very difficult to get admitted in Round 3, but that does not mean it is impossible.
Regardless of the timing, be strategic in your application. With all the changes in applications this year, there will be steep learning curves for admissions officers, admissions consultants, and applicants. Good luck.
Join the discussion on the Bloomberg Businessweek Business School Forum, visit us on Facebook, and follow @BWbschools on Twitter.
Before it's here, it's on the Bloomberg Terminal.
LEARN MORE