Far Above Cayuga's Waters
by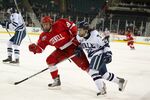 It's critical to understand that people make choices where they want to live. New York already has leadership in many industries including finance, media, and fashion … That is going to be the New York City distinction vs. living in California's Silicon Valley.
—Lisa Wolfson and Scarlet Fu, Bloomberg Surveillance: an interview with David J. Skorton, president of Cornell University, Sept. 18, 2012
Scarlet Fu owes $38.71 in Olin & Uris library fees to Cornell. The president came to collect.
There are advantages to living in the vicinity of the San Francisco Giants. For starters, they are not the Mets or the (worse) Red Sox. Another advantage is thinking big, taking chances, being bold.
The Right Coast desires to transfer 95014 excellence to 10044.
Skorton is uniquely qualified … to reach. As of the 17th century, he is—how should I phrase it?—capable. With authority in medicine, alchemy, engineering, and dealing with faculty, President Big Red can advance his and our technological progress. He can dream East-Coast Silicon Valley and people will perhaps follow.
This September, he is focused on Cornell football and needs—needs—the Big Red hockey combine to deliver. The 4,267-seat Lynah Rink redounds far across the Big Red world.
Meanwhile, New York City, Cornell, and selective others begin an audacious and liberal task as our national time and moment bathes in careful conservatism. Austerity is in the air.
The dreamers—Dreamers—of Cornell think, hope, do, and plan a commerce-based technology that will create jobs.
Ithaca has invaded. Soon, we will all be Far Above Cayuga's Waters. Discuss.
Before it's here, it's on the Bloomberg Terminal.
LEARN MORE