B-School Twitter Roundup
Alison Damast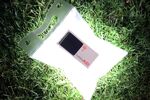 This week's Twitter roundup of happenings in the business school world includes a new name for Northeastern University's business school, an MBA student being mentored by New York City's Michael Bloomberg, and a business school that shut down last week after a bomb threat on campus.
Northeastern University renamed its business school the D'Amore-McKim School of Business after receiving a record $60 million gift from two Massachusetts businessmen, Richard D'Amore and Alan McKim, both of whom dropped out of Northeastern University but later returned to earn their degrees (@NU_Business, 9/12).
Andrea Sreshta, a second-year MBA student at the University of Chicago's Booth School of Business, is featured on the Business Because website. Sreshta is the co-founder of LuminAid Lab, a company that makes solar-powered, floatable, and waterproof lanterns, an idea inspired by the need for relief products for survivors of the 2010 Haiti earthquake (@Booth_Insider, 9/13).
Lindsey Melki, a first-year MBA student at New York University's Stern School of Business and an Army veteran who piloted Black Hawk helicopters in Iraq, is being mentored by New York City Mayor Michael Bloomberg as part of the ABC series Standing Up for Heroes (@NYUStern, 9/13).
SoFi, a startup launched by a group of Stanford Graduate School of Business alumni to help make student loans more affordable, raised $77.2 million from investors last week (@StanfordBiz, 9/14).
Michael Alexander, a second-year MBA student at Pepperdine University's Graziadio School of Business and Management, offers five tips in a blog on how students can get the most out of their business school experience (@GraziadioSchool, 9/14).
The University of California, Davis's Graduate School of Management has received a $1 million award from the U.S. Department of Commerce's Economic Development Administration to establish a Clean AgTech Innovation Center (@UCDavisMBA, 9/14).
Students at the University of Texas at Austin's McCombs School of Business and others at the university had to evacuate the school Sept. 14 after receiving a bomb threat (@UTexasMcCombs, 9/14).
The Wharton School will be launching the Wharton Public Policy Initiative to study the practice of public policy and business together, after raising $11 million in gifts (@whartonmagazine, 9/14).
Simon Taylor, a lecturer in finance at the University of Cambridge's Judge Business School, blogs about the vital role university dinners and dining play at Cambridge and the University of Oxford (@CambridgeJBS, 9/17).
John Buley, a new professor at Duke University's Fuqua School of Business who is heading up the school's Center for Financial Excellence, talks about what drew him to Fuqua after a career at JPMorgan (@DukeFuqua, 9/17).
Join the discussion on the Bloomberg Businessweek Business School Forum, visit us on Facebook, and follow @BWbschools on Twitter.
Before it's here, it's on the Bloomberg Terminal.
LEARN MORE