B-School Startups: Gluten-Free Cocomama
Kate Abbott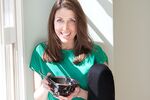 Editor's Note: This story is part of Bloomberg Businessweek's occasional series on the world of startups. The series focuses on MBAs and undergraduate business students who developed their ideas or launched their businesses while still in school, as well as the many ways their schools helped them get the new ventures off the ground.
In 2008, after nine years working as a marketer of natural foods, Sara Gragnolati was diagnosed with a wheat allergy and she quickly realized just how limited her dining options were. "The breakfast aisle is filled with wheat, corn, and oats, and anything being offered as gluten-free was a glorified version of puff corn or cornflakes," she says. "There wasn't really much for someone like me."
Frustrated by the dearth of snack options, Gragnolati enrolled in the Olin Graduate School of Business at Babson College in 2009 with the intent of starting her own food company. Her company, called Cocomama, launched its first product, a quinoa cereal with real fruit, in the spring of 2011.
Gragnolati attributes much of Cocomama's success to the experiences she had while participating in Babson's 12-month MBA program. "You don't need an MBA to start a company, but it doesn't hurt," she says. "I wouldn't be doing it with the same amount of finesse and focus that I learned from Babson." In the master's program, core business classes are accelerated for completion within three months, and Babson structured her electives around writing a business plan and networking. Thanks to her hard work, the plan she created took the top prize of $40,000 in the Graduate Business Plan competition to launch her company (then called Evolve Foods).
Following graduation, Gragnolati enrolled in Babson's Summer Venture Program (SVP) to further develop her business plan. In the SVP, she chose the name of her company, participated in weekly "hot seat" sessions for feedback, and formally launched Cocomama.
Steven Gold, director of the SVP, explains that the 10-week boot camp provides select ventures with some formal programming and individual mentoring. "You have 10 weeks to get out in the market, start making sales, and make real-world relationships so these businesses can get launched," Gold says. "With a high adviser-to-venture ratio, we have the ability to customize our assistance for each entrepreneur. … Sara has had a lot of support to get to where she is."
In 2011, Gragnolati moved Cocomama to Boston, and she currently meets with retailers on a regular basis. She films cooking webisodes and often flies to the West Coast for marketing stints. Cocomama currently manufactures only one product—a ready-to-eat cereal with real fruit, coconut milk, and quinoa, an ancient grain. Gragnolati says a dry, snackable cereal is in the works, and the company hopes to expand beyond the breakfast aisle one day.
The quinoa cereal, which is offered in four flavors, launched last month in 230 stores nationwide, including 150 Whole Foods locations. As the chief executive, Gragnolati is the only internal person on her team, and insists on "having a hand in every part of the business."
Gragnolati draws on two classes from Babson on a daily basis. The first was an entrepreneurial finance course that taught her how to take the minor details from spreadsheets and apply them to the big picture. "It was a great class to learn how to get down and dirty as an entrepreneur," she says. The second was a negotiations course, which guides much of her business strategy to understand how to best get what she wants for Cocomama.
"There's this mentality in gearing up for how much work a startup is, and how focused you need to be, I don't know if anyone can ever prepare you for in school," she says. "Every day there is something new thrown at you. Starting your own company is like earning a black belt and becoming a ninja warrior."
Before it's here, it's on the Bloomberg Terminal.
LEARN MORE