Nike Responds Regarding Explicit, Sweat-Soaked Uniforms
Paul Lukas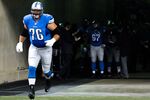 When Nike took over the NFL's uniform contract from Reebok (ADS:GR) earlier this year, many fans feared that the Beaverton (Ore.)-based sportswear giant would give the league a radical design makeover. After all, Nike had overhauled the look of college football over the previous decade, coming up with designs that often were more akin to superhero costumes than football uniforms. Speculation over what a Nike-fied NFL might look like was so rampant that a fan-produced set of garish, photo-shopped renderings went viral, prompting the league to issue a statement disavowing any connection to them.
It turns out all of the fuss over drastic redesigns was unfounded. As the first two weeks of the season have shown, the NFL outfits still looks like the NFL. Aside from one team that received a serious facelift (the Seattle Seahawks) and some minor tweaks to various jerseys, appearances have remained pretty much the same.
But an unexpected uniform scare emerged during week one in Detroit, when Lions offensive lineman Jeff Backus perspired through his pants, creating a translucence that didn't leave much to the imagination. The sports blogosphere seized on the image. Many wondered: Had Nike, in the pursuit of maximizing performance, taken the trend towards lighter and thinner too far? And should Fox's NFL on Sunday program be R-rated?
A Nike spokesman has issued assurances that there is no manufacturing defect or other unusual aspect to Backus's britches. "He was wearing the Nike Elite Pant that's worn by all NFL players," he said. "We believe it's an isolated issue, and we're working closely with the Lions to solve this issue for the player."
Sharp-eyed observers will notice that perspiration is affecting more than Nike's pants. The high-tech jersey design employs a tailoring pattern that uses different types of fabric in different parts of the jersey: a stretch panel here, a ventilation panel there, and so on. When the jersey is dry, the fabrics look essentially the same and cohere to form a solid-colored uniform top. But as the players perspire, some panels turn dark, creating a two-tone pattern. Uniform-obsessed fans have dubbed this the "sweatbox effect," a reference to the dark square that appears on the players' abdomens as they perspire.
So it turns out the NFL does look different in the Nike era—just not the way everyone had anticipated. Keep in mind, though, that only about 1,700 players wear NFL jerseys on the field, which is a paltry number compared to the countless thousands of fans who buy and wear them. Good thing the fans don't sweat as much as the players do.
Before it's here, it's on the Bloomberg Terminal.
LEARN MORE