Here Comes the Big Manufacturing Slowdown
by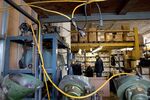 A new TV commercial running in the New York region features Robert De Niro lauding the "new" New York State economy to the tune of Jay-Z's Empire State of Mind. Quick-cut shots of high-tech manufacturing assembly lines, silicon wafers, and spinning wind turbines (among others) accompany De Niro's voice-over about attracting businesses and creating jobs, lowering tax rates, and spurring innovation. The message is clear: Business and manufacturing in New York State is making a big comeback. It'd be nice if it were true.
For the second straight month, manufacturing activity in the New York region slowed, this time to the lowest level since April 2009, during the worst of the global recession. The Federal Reserve Bank of New York's Empire Manufacturing Survey dropped to a minus 10.4 reading in September, nearly double the slowdown from August's reading of minus 5.85, and five times as bad as the median forecast of the 53 economists surveyed by Bloomberg, which called for a reading of minus 2. The slowdown was broad and deep, from new orders and shipments to employment. All sank more than expected.
This would be less of a problem if it were just a regional slump. But the New York data is clearly part of a much bigger trend. Last week, the Fed reported a sharp contraction in the country's industrial output, which showed that production from factories, mines, and utilities fell by 1.2 percent last month—the biggest drop since 2009 and also well below expectations. Slowing U.S. exports have  pushed the monthly trade deficit in manufactured goods to a record $63.9 billion. After creating 500,000 jobs since 2010, factories are starting to cut workers.
Manufacturing data tend to be a leading indicator for the rest of the economy. The recent weakness is more an indication of future conditions than present ones, meaning the U.S. manufacturing renaissance of the last two years may be about to take an extended breather. An analysis of 27 major industries by the Manufacturers Alliance for Productivity & Innovation predicts that industrial activity in the U.S. is entering a period of sluggish growth that will last until the second half of 2014. MAPI chief economist Daniel Meckstroth expects that industrial production will grow by 4.5 percent in 2012 and only 2.3 percent in 2013, a full percentage point lower than his previous estimate of 3.3 percent. "The big difference right now is that the growth we've seen for the last two years, that's not going to occur much anymore," says Meckstroth.
What's frustrating is that industry is primed for a big investment boom. On the whole, manufacturers have high profits, relatively high utilization rates, and bunches of cash. They face ultra-low borrowing costs. Right now, the U.S. manufacturing sector is using 78 percent of its total capacity, compared to a low of 66 percent in June 2009. Even with low growth expected, companies aren't that far from maxing out what they can produce at current capacity merely to meet a 2 percent increase in production. A lot have plenty of cash on their balance sheets, and with borrowing rates so low, it's hard to think that the return on investment from a new project wouldn't be higher than the cost of the money it takes to build it. "The hurdle rate is really low right now," says Meckstroth.
Yet uncertainty abounds. Europe is healing but as the destination for 20 percent of all U.S. exports, it still entails considerable risk. Consumers remain over-leveraged. Then there's the fiscal cliff. "Businesses are just really nervous about the fiscal situation," says Meckstroth. "It's a considerable headwind."
Before it's here, it's on the Bloomberg Terminal.
LEARN MORE