Asia—Not the U.S.—Leads a Surge in Global MBA Application
Alison Damast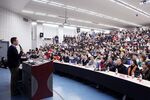 In a reversal from the past three years, applications for MBA programs appear to be making somewhat of a comeback, fueled by growing interest in online and distance-learning programs and sharp application growth at non-U.S. programs, according to new research by the Graduate Management Admission Council. The GMAC study, released on Sept. 14, charts year-to-year application changes at 744 management programs at 459 business schools in 46 countries.
Slightly more than half of all business programs surveyed by GMAC this year, or 51 percent, showed signs of application growth, including MBA programs, master's degree programs, and PhD programs. A bright spot in this year's report was that 46 percent of all MBA programs experienced an uptick in application volume in 2012—up 10 percentage points from the year before and marking an important shift from previous post-recession periods, when applications typically decline, GMAC said.
"MBA programs are experiencing a turnabout from recent downward application cycles even as the economy moves toward recovery," the report said. "This year's data demonstrate that the application downturn for MBA programs was neither as steep nor as deep as the downturn experienced after 2002."
The overall picture varied widely though, depending on the type of MBA program and its geographic location. Globally, 43 percent of full-time, two-year MBA programs had an increase in applications this year over last, up 15 percentage points. But much of that spike is coming from the booming Asian markets: Some 79 percent of programs in Asia-Pacific and 80 percent of programs in Central Asia reported an uptick in application volume. The surge "may be attributed to domestic applicants, the greatest source of growth across Asia," the report said.
MBA programs in the U.S. did not fare quite as well, with nearly two-thirds of full-time, two-year programs, or 62 percent, reporting a decline in applications. Those numbers are in line with recently released data from top business schools in the U.S., where full-time MBA applications have plummeted at more than a dozen of the top 30 B-schools, including double-digit declines at Columbia Business School, NYU's Stern School of Business, Michigan State's Broad Graduate School of Management, and Indiana's Kelley School of Business.
Students who are reluctant to leave their jobs for a two-year commitment to business school are turning to online or distance MBA programs, which saw the sharpest application gains of the six MBA program types in the survey. Two out of three online MBA programs reported increased application volume. One reason these programs are becoming increasingly popular may be that incoming students are more likely to receive employer funding for an online MBA than for other programs. More than half of all online programs reported, for example, that 40 percent to 59 percent of their incoming class members have some employer funding, the survey found.
By far the strongest application growth in this year's survey came from specialized master's degrees, which reported a 73 percent increase in application volume this year, continuing a five-year trend of strong growth. For the last five years, the GMAC survey has tracked application volume in three specialized master's programs: management, accounting, and finance. This year, GMAC added two rapidly growing master's programs to the list, information technology and marketing-and-communications degree programs, both of which reported a sharp jump in applications this year—69 percent and 78 percent, respectively.
The proliferation of specialized master's degrees in business, combined with the growth of more flexible, online MBA programs, are signs that demand for business education continues to spread across a larger swath of programs, said David Wilson, GMAC's chief executive officer and president, in a press release.
"As the global business space continues to become more complex, there is a greater demand that business schools today offer specialized and flexible programs to meet corporate and student needs," Wilson said.
Join the discussion on the Bloomberg Businessweek Business School Forum, visit us on Facebook, and follow @BWbschools on Twitter.
Before it's here, it's on the Bloomberg Terminal.
LEARN MORE