Apple's Lightning Connector Heralds the End of Docks
By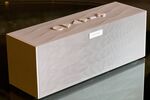 Apple's announcement that it is abandoning its 30-pin connector—first introduced on the original iPod all the way back in 2001—has got some users and media types in high dudgeon. Why? The new connection standard—called "Lightning" by Apple—is incompatible with the older cable.
It's never awesome when a manufacturer or industry switches standards and makes people spend money to move to the new one. It also happens all the time: Records begat cassettes, which begat CDs, which begat downloadable music files. Floppies gave way to thumb drives and downloads. Fortunately, the republic seems to withstand such changeovers.
Apple will be including a free Lightning-to-USB cable with all new iPhone 5s, so you can still plug the phone into electrical outlets, PCs, and other devices with a USB port to charge it. On the other hand, all those docks, speakers and other bases for an iPhone will be useless with an iPhone 5 unless you buy a $29 adapter or a $39 cable.
Still, the switching of a connection standard raises a question beyond "How will I get my iPhone to work with all my docks?" That question is: "Why am I docking my iPhone at all?"
For starters, you haven't had to connect an iPhone to a Mac or PC to sync or back it up since iOS 5 came out last October. A feature called Wi-Fi Sync means that if your phone and computer are on the same Wi-Fi network (and iTunes is running on your computer), your phone can automatically sync to it wirelessly (go to Settings/General/iTunes Wi-Fi Sync).
If you have an iCloud account, you can back up your phone to the cloud so long as your phone is connected to a power source, is on a Wi-Fi network, and its screen is locked (go to Settings/iCloud/Storage & Backup).
So that takes care of the important stuff—making sure your data is secure should something happen to your phone. But what about other issues such as playing music?
It's easy enough to buy music from iTunes on your iPhone. And with apps from Pandora (P), Spotify and others, it's also easy to stream music without a PC as well. Even if you don't keep all your music on your phone, Apple's free remote app lets you control iTunes on a computer from your phone when they're both on the same Wi-Fi network.
Then there's the matter of speaker docks, which have been popular for years. But the latest speakers dispense with a dock entirely, connecting wirelessly to your iPhone or iPod Touch via Bluetooth or AirPlay, Apple's proprietary wireless standard. The advantages to this are many: Your phone is not anchored to a device, so it's as much a remote control as it is a source of music. Some wireless speakers feature controls on the speaker itself. Jawbone's Big Jambox, for example, has volume and playback controls on the top of the speaker; the phone can be in your pocket, but anyone can change tracks or adjust the volume from the speaker itself. There are plenty of other wireless speakers, from such makers as Bose, Bowers & Wilkins and Bang & Olufsen.
If you have an Apple TV, you can send video content from your iPhone to a large LCD or plasma display. The iPhone becomes a sort of super-remote control, and none if it requires a cable. (It does, to be fair, require an Apple TV, which costs $99.)
Really, about the only place where a wired connection is totally necessary is the car. While the iPhone can use Bluetooth for its phone capabilities, music functions still have to go through a wired connection. But that seems likely to change—the trend here is for more things to become wireless, not fewer.
So if you don't have to plug in to sync, backup, play music, or watch video, what do you really need to plug in for? Apple gave its new connector a jazzy name by calling it Lightning, but its purpose is far more ordinary than that. With almost all connections becoming wireless ones, Lightning is little more than a very well-designed power cord.
Before it's here, it's on the Bloomberg Terminal.
LEARN MORE