Anti-Japanese Protests Flare in China Over Disputed Islands
By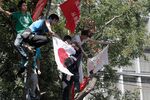 "Never forget the national humiliation," and "Protect China's inseparable territory," read some. More disturbing: "Let's kill all Japanese," and "Nuclear extermination for wild Japanese dogs."
Those are some of the sentiments irate Chinese are displaying on protest banners across the country, as demonstrators in more than a dozen cities including Beijing, Shenzhen, Guangzhou, and Nanjing take to the streets, angry about Japanese control of the disputed Senkaku islands—known as Diaoyu in China—an uninhabited but possibly resource-rich atoll in the East China Sea.
The buzz of government helicopters circling over China's capital disrupted already tangled traffic on Sept. 15, with drivers stopping to look up at the rare sight as hundreds of riot police blocked streets around the Japanese Embassy in northeastern Beijing. Some 2,500 demonstrators marched, some carrying pictures of Mao, while others pelted the consulate with eggs and plastic water bottles and rushed at police barricades.
The protests have been sparked by the Japanese government's announcement that it intends to nationalize the privately owned islands. China has sent six patrols boats to the waters near the islands in recent days.
Fires broke out in a Panasonic electronics parts plant and a Toyota Motor dealership in the coastal city of Qingdao after protests there, the companies said on Sept. 16. To date, there has been no confirmation as to who set the blaze. Both have shut operations temporarily.
As a protective gesture, Japanese restaurants and offices have responded by prominently displaying the Chinese national flag outside their doors. "I intend to strongly demand that the Chinese government ensure security" of Japanese citizens, Prime Minister Yoshihiko Noda said on Sept. 16. On a trip to Tokyo on Sept. 17, U.S. Defense Secretary Leon Panetta said he was "very concerned" about the protests.
Equally alarming has been the bellicose rhetoric in China's state-controlled press. After China carried out combined land, air, and naval exercises involving jet fighters, ships, and amphibious tanks, Chinese media pointedly wrote that they should serve as a warning to Japan.
"These kinds of assault and defense exercises give a clear warning message to Japan that China is prepared for and confident about protecting the Diaoyu Islands," said Hu Siyuan, a Beijing-based strategy, according to government website China.org on Sept. 12. "China is not worried about a potential showdown over the disputed islands," Hu continued, despite the fact that exercises on this scale must have been planned months in advance.
Given the curious timing of the latest explosion of anti-Japan feeling, some are wondering whether there is any connection to the ongoing once-in-a-decade leadership transition, with a key Communist Party Congress expected to open as early as next month. A still-unexplained two-week-long disappearance by Vice President Xi Jinping, presumed to be the country's next leader, sparked concern over his health and set off speculation. (A smiling Xi resurfaced on Sept. 15 at the China Agricultural University in Beijing, where he was shown examining ears of corn.)
The top theory is that China's leadership may be encouraging the nationalist outpouring to distract attention from continuing dissension at home, including debates over who will ultimately be named to China's nine-member reigning body, the Politburo Standing Committee. Many expect the final cut to include only seven people, with the Committee reduced in size.
Also key is how the leadership deals with the still unresolved case of popular "princeling" and former Chongqing Party Secretary Bo Xilai, whose wife was given a suspended death sentence for murdering a British businessmen. Bo's former police chief, Wang Lijun, goes on trial on Sept. 18 over corruption and allegations that he was involved in the murder case.
Meanwhile, calls for a boycott of Japanese goods are rising across China. Sales of Japanese-branded cars fell last month in China, even as German, Korean, and American vehicle sales grew by more than 10 percent. Earlier efforts to sanction Japanese goods in China—particularly following similar anti-Japan protests in 2005 and 2010—have not proved long-lasting, however.
"The intensifying tension between China and Japan over the Diaoyu Islands is not a farce being played out by Japanese right-wing politicians but a well-orchestrated plan of the Japanese government," wrote Jin Baisong, a deputy director in the Chinese Academy of International Trade and Economic Cooperation, which is affiliated with China's commerce ministry, in the China Daily on Sept. 17. "China should take strong countermeasures, especially economic sanctions, to respond to Japan's provocations. Military consideration, however, should be the last choice."
Meanwhile, there are signs that Beijing is keen to ensure things don't get out of control. State media has warned against violence and at least one city, Xian, in western China, has banned some "illegal" protests. "Violence cannot be tolerated simply because the protests are aimed at Japan," the state-run Global Times newspaper wrote on Sept. 17. "Violence can only weaken the current campaign against Japan."
"When the sovereign territory of the Mother Country is subjected to provocation, our anger is irrepressible, and the enthusiasm of the youth of China must have release. These patriotic feelings are precious, and they must be cherished and protected," wrote the People's Daily in an editorial on Sept. 17. "But a civilized attitude abiding by rule of law should be the basic conduct of the citizenry. Doing damage to the legal property of one's countrymen and venting one's anger on the heads of Japanese citizens in China is extremely inappropriate."
Before it's here, it's on the Bloomberg Terminal.
LEARN MORE