Résumé Required: Business Majors Get a Wake-Up Call
Alison Damast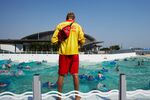 Undergraduate business students at the University of Iowa's Tippie College of Business no longer need a résumé simply to get an internship or job. Now they are required to have one in order to be considered for admission to business school.
The new requirement, which goes into effect in the spring of 2013, is a major shift for Tippie, which up until now has had an admissions process that relied primarily on grades and grade point average, said Susan Felker, Tippie's assistant dean for admissions and enrollment management. The school will ask applicants—the vast majority of them sophomores—to list their work experience in a résumé format, asking them to highlight their experience in areas such as leadership, global engagement, skills, and coursework. It's an exercise intended to get them thinking about what they need to do to fill in any gaps they might have in their résumés early on in their college careers, rather than when they are seniors, Felker said.
"Certainly for the person who only has had babysitting as a job, this will clue them in to the idea that this is the time they need to start changing that," Felker said.
With the new résumé requirement, Tippie joins a number of other undergraduate business programs that are asking students to think like job applicants when applying to their schools, including the University of North Carolina's Kenan-Flagler Business School and University of Arizona's Eller College of Management. The push comes as schools are trying to help students become more attractive to employers in what is becoming an increasingly competitive job market for college graduates. In another sign that schools are taking early career preparedness more seriously, about a half dozen undergraduate business programs now are making activities like writing résumés and improving networking skills a mandatory part of the curriculum.
Stephanie DeVivo, a junior at the University of Iowa who plans to apply to Tippie this fall, said she is in favor of the new résumé requirement. She put together a résumé last year for a class, and the exercise showed her there were some important gaps in experience she needed to fill before applying to Tippie. "It showed me that I wasn't as involved as I could be, which made me more determined to join clubs and do more activities," she said. "There are only positives that come from creating your résumé sooner [rather] than later."
The résumé can hold different weight in the application process depending on the school. At Tippie, the school's admissions office will not be scoring résumés or comparing those submitted by different applicants, but rather will give them a pass or fail grade based on how they present the applicant's past work experience, whether it be mowing lawns or working at an uncle's law firm, Felker said. "It's really about gaining experience in how you translate that job and format it on a résumé," she said.
Anna Millar, the senior associate director of admissions and recruiting for undergraduate business programs at the Kenan-Flagler school, said the résumé plays an important admissions role at the school, which only accepts about one out of every two applications. Most applicants, like those at Tippie, are sophomores.
Millar said she encourages pre-business majors to start thinking about their résumés as soon as they step onto campus as freshmen. Even if they only have, say, a lifeguarding job for the summer, students can still impress an admissions officer by taking that experience and turning it into a more business-oriented internship. For example, they can ask the pool employees if they can help with payroll, work with the marketing department to increase pool memberships, or organize the pool and lifeguard schedule, all experiences they can highlight on their résumés.
"That's one way they can turn a typical summer job into a more meaty summer experience that they can articulate on a résumé," she said.
Some schools take the résumé requirement even further. The Eller College of Management asks second-semester sophomores applying to the school to submit both a résumé and a cover letter. They're then required to do an interview with an alumnus from the school, who gives the students feedback on their résumés and cover letters during the meeting.
"We are actually simulating a job interview, only it is to get into school," said Pam Perry, Eller's associate dean of undergraduate programs. "This way, when they are ready to look for an internship the first semester of their junior year, they are already light-years ahead of their peers."
Join the discussion on the Bloomberg Businessweek Business School Forum, visit us on Facebook, and follow @BWbschools on Twitter.