Office Bag Lunch: Rosh Hashanah Leftovers
By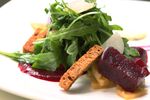 Along with honey and apples, beets are among the symbolic foods eaten on Rosh Hashanah, says Menachem Senderowicz, an owner of kosher New York restaurant Jezebel SoHo, which opened in July. "Traditionally, we eat beets to remove the past year's missteps, our adversaries, and to grant us a sweet New Year," he explains. "For the High Holidays, change things up and make this delicious beet salad recipe. It is sure to be a major hit and you'll be glad when you have leftovers to bring for lunch the next day." Senderowicz shares a recipe for a roasted beet salad from Jezebel's culinary director Bradford Thompson, a James Beard award-winning chef, with his own twist—adding leftover brisket or turkey for a heartier lunch.
Ingredients
(Serves 2)
1/2 cup roasted red beets
1/2 cup roasted yellow beets
1/4 cup candy stripe pickled beets
1 tbsp borscht coulis (recipe below)
1 tbsp sauce gribiche (recipe below)
3 tbsp extra virgin olive oil
Arugula, for garnish
Rye croutons, for garnish
Leftover brisket or turkey (optional)
Instructions
Spread 1 tbsp borscht coulis across Tupperware. Dress red beets and yellow beets in two separate bowls with salt, pepper, and 1 tbsp of olive oil each. Add pickled beets. To garnish, dress arugula with remaining olive oil, salt and pepper, and place over beets. Add rye croutons. Drizzle with sauce gribiche. If desired, add leftover brisket or turkey.
Borscht Coulis
1 cup roasted red beets
1 cup yellow beets
1 shallot
1/4 cup lemon juice
1/4 cup olive oil, plus 1 tbsp
1/4 cup water
Salt and pepper to taste
Sweat shallots with 1 tbsp olive oil. Blend remaining ingredients together until combined and set aside.
Sauce Gribiche
1 cup mayo
1 tbsp shallots, diced
1 tbsp horseradish, grated
1 tbsp egg whites, diced
1 tbsp chive, chopped
Combine all ingredients together and set aside.
Before it's here, it's on the Bloomberg Terminal.
LEARN MORE