Former McDonald's Executive Serves Up Healthy Fast Food
By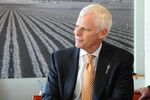 Lyfe Kitchen—a fast-casual restaurant in Palo Alto, Calif., that offers low-calorie, locally sourced, and sustainably grown food and wine—plans to open about 10 new restaurants next year in such cities as Chicago and New York. The expansion is not being led by the average health-food enthusiast. Lyfe Kitchen's chief executive, Mike Roberts, is McDonald's former global president and chief operating officer. After a 30-year career at the world's largest burger chain—where Roberts spearheaded the addition of new menu items that included salads, apple dippers, and fruit and yogurt parfait—came to an end in 2006, he gathered more than $15 million from more than 120 investors for the new venture. The first restaurant opened in 2011 with such menu items as salmon for $15 and quinoa wrap for $9 (as most of the food is locally sourced, the menu will have regional variations at other locations). The average time from ordering to getting your food: 8.5 minutes.
How did you decide to go from McDonald's to health food?
At McDonald's, I was a part of all the conversations with our menu development team. The fruit and yogurt parfait, the apple dippers were all on the menu I was a part of. I've lived this lifestyle for a long time and had the great opportunity to meet with Chef Art [Smith] and Chef Tal [Ronnen] and talk about what we can create here. What are customers asking for? They are asking for choice. We are bringing this food to as many people as we can. When people realize they can have food that tastes this good, is good for them, they will respect it. It will have an important impact on their lives. People are saying: "Can we have the recipe for this? … I'm bringing my daughter here to taste the farmer's market salad with black rice. … I didn't know you could have corn chowder made with cashew cream that's less than 200 calories or eat this way and enjoy it." When you think about healthy food, you think it won't taste good, it won't look good, I'll be hungry in a few hours, it'll be expensive. We've tried to create an overall experience—the restaurant even has an herb wall—so people can enjoy something with friends and family.
Do you have any misgiving about McDonald's?
This is about the next phase of my life. What I'm focused on is building the next Lyfe in Culver City. I will provide this experience for as many people as I can. I had a great experience at McDonald's. I respect the company. Now I want to bring farmers, growers, and restaurateurs together. That's what I am about.
You once wanted to be a Catholic priest before you got into the food business.
I've always been in a place where I wanted to serve people and be around people. Commitment to a cause or a belief system and pursuing a meaning in their life—that's what Lyfe Kitchen has provided me. It's how we feel about life, and the food we consume, and the lifestyle we believe in.
What did you have for lunch today?
I went to Chipotle in Culver City, about 50 feet from our Lyfe Kitchen, which is under construction. I had the chicken bowl with beans, rice, green peppers, and onions. I have respect for [founder and co-CEO] Steve Ells and what he's done for Chipotle.
Isn't Chipotle your competitor?
Chipotle is an example of a brand that captured the imagination of its customers. They have a lot of integrity [in their food], and I have a lot of respect for them.
Do you consider yourself a foodie?
What I would say is, I love food. I always have. … I love the journey I've been on related to taste. Herbs, spices, baked, grilled, fresh, local products that provide great tasting food. Food that's great for you. If that makes me a foodie, that's what I am.