For EADS-BAE Deal to Succeed, Congress Is Crucial
August Cole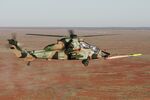 On the website of the European Aeronautic Defence & Space Co., the company's formal response to a possible merger with BAE Systems is offered in four languages: English, French, Spanish, and German. It's a reminder of how complex running a pan-European enterprise truly is, particularly one charged with being a counterweight to the U.S.'s competitive edge in aerospace and defense.
Further complexity is apparently not a barrier to creating an even bigger European defense colossus than EADS—with €49 billion ($64 billion) in 2011 sales and 133,000 workers—already is. BAE isn't much smaller: some 93,000 employees and 2011 revenue of more than £19 billion ($31 billion). Nor are the high regulatory and political hurdles such a deal would face in the U.S., the world's largest defense market.
After all, merging is a familiar strategy in America, as blockbuster deals during the 1990s created the U.S. defense industry of today.
Yet bulking up may no longer be the best defense against tough times. The biggest U.S. defense companies, such as Northrop Grumman, Raytheon, and Lockheed Martin, formed in the 1995 combination of Lockheed and Martin Marietta, are shedding thousands of jobs and closing facilities in anticipation of defense cutbacks. For the largest U.S. firms, mergers are no longer a realistic option since the market for developing big-ticket military goods is declining enough that by the next decade the U.S. could have one remaining fighter maker—Lockheed.
A potential EADS-BAE deal is another sign of the crossroads moment for the global defense industry, and it lays bare two realities. The first is that for all the U.S. desire to use globalization to increase competition among the Department of Defense's contractors, Europe's efforts to land high-profile Pentagon contracts have flamed out.
The two most politically controversial attempts failed. One would have had the U.S. president zipping around on a European helicopter while the other would have put Air Force pilots at the controls of Airbus refueling planes. In the latter case, the Air Force repeatedly botched the contracting process amid pressure from U.S. lawmakers. Boeing ended up snatching the $35 billion contract in 2011, three years after the Pentagon had chosen a bid by Northrop Grumman and EADS.
Meanwhile, U.S. allies, even in Europe, continue to buy the latest-generation American-designed fighters and missiles. The U.S.-led F-35 Joint Strike Fighter program is a leading example. American allies throughout Europe are involved in the plane's development—to help keep costs down and to ensure foreign orders. The program, estimated by the U.S. government to cost well more than $1 trillion during its lifetime, is potentially the last manned fighter under development.
BAE notched a big success selling thousands of U.S.-built MRAP (mine-resistant, ambush-protected) armored trucks to the Defense Department for use in Iraq and Afghanistan. Yet, when considering the future of American airpower, nobody in Washington ever seriously considered turning to the European consortium that includes BAE and EADS to buy their Eurofighter Typhoon combat jet.
For European defense executives, the reality became that the U.S. wanted to sell across the Atlantic but not buy European-made arms.
A combined EADS-BAE would only further rile up protectionist-minded lawmakers in Congress, doing little to improve the odds of winning more work in the important American military and civilian market. Even though BAE has about 44,000 employees in the U.S., a presence built through acquisitions of American companies, a merger with EADS would certainly change the political lens used to view those operations from Washington.
Elsewhere in the world, the allied marketing power of the European companies' home governments might indeed give a new edge in doing deals in fast-growing defense markets such as India or Brazil. After all, the biggest weapons deals are about much more than one plane's ability to pull greater Gs than another. Technology sharing, production offsets, and other big economic advantages are all expected in the current spending environment.
The second reality is that the U.S. industry has the advantage of accessing the Pentagon's deep pockets.
While a combined EADS-BAE would dwarf Lockheed Martin, America's largest contractor, in both sales and workers, U.S. firms of all sizes feed from a stream of Defense Department contracts worth hundreds of billions a year. Even with significant defense cuts in mind, the U.S. will continue to outspend everyone else.
It's also important to consider one more thing that rings true beyond the defense sector. There is no such thing as a merger of equals, particularly with a deal this big. EADS and BAE executives should keep in mind AOL's deal for Time Warner in 2000, the same year EADS was formed. At the outset, the AOL-Time Warner merger promised to remake the media and entertainment landscape of the 21st century. Instead, the pairing proved that employees indeed could speak different languages and come from incompatible cultures even if they all have the same passport.
In fact, the louder the message of equality, the more unequal a merger transaction often is behind the scenes. The marriage of AOL with Time Warner lasted less than a decade. EADS's own corporate makeup reflects a best effort at mitigating not only egos, but national interests, too.
Ultimately, this deal is about more than winning any one coveted military contract, or even EADS's Airbus defeating its perennial aerospace rival, Boeing. This is about something bigger. It's about creating a unified European arsenal to counter the competitive edge that U.S. aerospace and defense has enjoyed since the end of the Cold War. Combining EADS and BAE will be about much more than all of its employees learning to speak the same language.
If these two defense giants merge, their success will, in large measure, be decided in Washington, D.C.
Before it's here, it's on the Bloomberg Terminal.
LEARN MORE