Consumer Confidence: It's the Stock Market, Stupid
by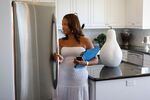 To read the economic news, there's plenty to feel glum about: China's slowing down, Europe's still a mess, U.S. job growth has flatlined, manufacturing in particular is starting to weaken. And yet, Americans are beginning to feel better about things, especially their own finances.
The weekly Bloomberg Consumer Comfort Index increased by the most since December, with 47 percent of respondents rating their own finances in positive terms, the most since early August. The index's –42 rating is still well below the recent April high of –31. And it's nowhere near the 2.0 rating clocked in 2007.
Still, in the face of a stalling global economy, rising gasoline prices, and jobless claims, the fact that Americans are feeling more confident is noteworthy, if not a bit odd. And it's not just the Bloomberg survey that's registering an uptick. The University of Michigan's consumer sentiment index also rose unexpectedly in September to the highest level since May. As Neil Dutta, an economist at Renaissance Macro Research, pointed out in a note on Friday morning, the University of Michigan measure "tends to be more sensitive to equity price action."
And there you have it. The economy may be in the dumps, and you may be paying ¢50 more for a gallon of gasoline than you did two months ago, but the stock market is on fire. If you have one, your 401(k) balance probably looks a lot better than it did a few months ago. The Standard & Poor's 500-stock index has gained more than 4 percent in September alone. On the year, it's up nearly 15 percent.
Add that to a slow rise in housing prices, and it's easy to see why Americans are starting to feel a bit better about their finances. Although there's a debate about whether confidence is a leading or lagging indicator for the economy, despite all the other measurables out there, most economists agree that confidence is absolutely essential.
Earlier this week I spoke with James Paulsen, chief investment strategist at Wells Capital Management in Minneapolis, about his views for 2013. Unlike most of the economists I talked to, he was rather bullish on the prospects for growth in 2013. "The biggest stimulant in the next four years is not monetary policy, and it's not fiscal policy. It's confidence," said Paulsen. "If confidence goes up, everything else gets better."
Before it's here, it's on the Bloomberg Terminal.
LEARN MORE