business
Welcome to Goldman Sachs. Don't Get Too Comfortable
By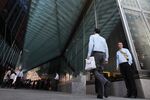 Goldman Sachs shook up the pressure-cooker world of Wall Street employment this week, doing away with the two-year analyst contracts it has bestowed on the most promising college seniors for the last quarter century.
The shift, first reported by the Wall Street Journal on Thursday, gives Goldman more flexibility in shaping its lower ranks—at a moment when those lower ranks are reshaping the industry.
Traditionally, early September is when a group of lucky college seniors, fresh off a summer internship at Goldman, receives an offer to work at the investment bank for two years. That time would be spent working hundred-hour weeks as analysts in Goldman's rarefied corridors, meeting the right people and being groomed for future success at the firm. The next step would be business school, and then, for an even luckier subset, a return to Goldman to start a banking career in earnest. The process was highly regimented and ultracompetitive, and receiving one of those two-year offers was an ambitious person's official acknowledgement that she was in the game.
The packages going out to college seniors this September are different, offering no two-year guarantee and placing new conditions on bonuses that were paid upon finishing the investment bank-analyst program. Why did Goldman change its terms? It's not about axing slackers; the bank was always free to fire those who underperformed. It has more to do with giving Goldman more leverage over the best workers, discouraging them from entertaining offers from hedge funds or venture capital groups.
Goldman's program is the most prestigious on Wall Street, but that has not stopped its members from courting other offers—especially from private funds. The bank has fired a "handful" of analysts in recent years, the Journal reported, frustrated that it was in effect training competitors' hires and paying for the privilege.
Goldman's decision is a reflection of how the usual Wall Street career arc has changed. Young people are taking longer to enter the industry. There are fewer jobs, and positions in the less-regulated world of hedge funds, private equity, and venture capital offer, in many cases, higher pay for less hassle. A study by PricewaterhouseCoopers in May found that nearly half of young finance graduates were looking for new jobs.
Goldman, of course, remains Goldman—not the biggest bank by capitalization, but the one with the greatest aura. It still fields tens of thousands of applications for just hundreds of jobs annually. Its analyst program has long been one of the most sought-after on Wall Street—and its alumni, the Journal noted, include several of the bank's top executives.
Before it's here, it's on the Bloomberg Terminal.
LEARN MORE