States Pass 'Baker's Bills' to Lift Struggling Households
By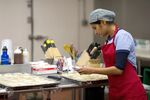 Kristen Farrar would like to sell the cakes, scones, and muffins she bakes, using figs, walnuts, and citrus from farms near her home in Fresno, Calif. But the home-schooling mom of two can't afford to rent commercial kitchen space or pay the $50,000 she estimates it would take to turn a shed on her property into a certified commercial kitchen, in which food for sale must be prepared under existing state law.
Farrar is hoping she won't have to comply with the old rules because of new legislation—the California Homemade Food Act—that was approved last month and is awaiting Gov. Jerry Brown's signature. It would allow home-based entrepreneurs to sell $35,000 to $50,000 annually in "non-potentially hazardous" foods such as breads, jams, and candy.
If Brown signs the bill into law, California will become one of 32 states with cottage food laws, sometimes called "baker's bills" because they often apply to home-baked goods. The financial crisis and recession have sparked the passage of 14 of these laws since 2008, many championed by would-be entrepreneurs motivated by pay cuts and layoffs. They've also stirred concern, both from established business owners wary of competition and public health advocates concerned about food-borne illness.
Being able to sell the goodies she makes in her home kitchen would allow Farrar to test her products at farmer's markets and get onto shelves at local grocers and coffee shops. If her items prove popular, she says, she plans to upgrade to a commercial facility and expand production. "Once you get your foot in the door and make a name for yourself, then that's when you can go out and get a shop—maybe three or four years down the road—and make a decent living," she says.
Cottage food laws legalize practices that are already commonplace, albeit under the radar, in many communities, says Christina Oatfield, food policy director for the Sustainable Economies Law Center, a nonprofit legal research group in Oakland, Calif., that worked on the California bill. "We want to empower people who are afraid to start a business because they don't have much money to put at risk," she says.
While the legislative push drew some concern from the state's environmental health officers, they issued only mild opposition because their concerns were considered in drafting the law, Oatfield says. The statute applies only to foods that do not have to be served hot, refrigerated, or frozen, so they are unlikely to make anyone sick. "Because they are very low-risk, all the requirements of a commercial kitchen are really expensive and unnecessary for a micro-enterprise," she says.
Many established food producers supported the California law because they recognize how tough existing regulations are for startups. Delta Air Lines flight attendant Debbie Baretta recalls that starting her Penngrove, Calif., gluten-free baked goods venture, Mama Baretta, two years ago was "a huge struggle." After investing $12,000 in the startup, she caught a break when a kitchen operator took pity on her and let her use the facility at no cost during off-hours. "She knew I wasn't going to make any money whatsoever, so she rented the space to me for nothing," Baretta says. Rent for the two commercial kitchens she uses now cuts deeply into her outfit's margins; she has sold $35,000 worth of product to date this year, she says.
Other established business owners are not so supportive. In South Carolina, where a cottage food bill passed in June, it was opposed by the Southeastern Retail Bakers Association, a trade group that represents bakers in Alabama, Tennessee, Florida, Georgia, and North and South Carolina. Eileen Ferri, owner of Ashley Bakery in Charleston, S.C., joined the opposition. "I appreciate that people want to be entrepreneurs and I don't want to sound like sour grapes, but if someone is working from home, they don't have to pay all the taxes and insurance and do everything that goes along with running a business," she says.
South Carolina home bakers, who are capped at $15,000 in annual gross sales under the new law, won't threaten her 10-employee, $780,000 operation, she says, but she worries they may undercut her prices. "If they're going to sell a cake for $10 and we have to charge $25 because of [our costs], I don't feel like that's just. Everybody should have the same level playing field," Ferri says.
Sheryl Broussard, a cake-decorator who works out of her home in Edgefield, S.C., says the cottage food law will not hurt business owners in her state. "You can only produce so much yourself out of your home kitchen, so in light of those restrictions, [we won't be] much competition to a retail baker," says Broussard, who was instrumental in getting the law passed.
She has set up a website to help others interpret the new law and get started with home-based businesses. The majority of those she advises on a volunteer basis are women looking to supplement household incomes. "Most everybody I've spoken to, this has been a dream of theirs for many years," she says, but the cost has prohibited them from taking the leap into entrepreneurship. The law "made it possible for a lot of people to have their own business."
Before it's here, it's on the Bloomberg Terminal.
LEARN MORE