My Life as a TaskRabbit
A short career in the distributed workforce
By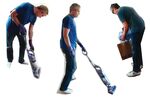 Standing in the living room of his luxurious two-bedroom apartment, which has sweeping views of the San Francisco Bay, Curtis Jackson informs me that I am a terrible housecleaner. There are soap stains on the walls of his master bathroom and pools of water gathering near the edges of the tub. My Roomba vacuum, we discover after a lengthy and humiliating search, is out of power and stuck under a bed. There's an entire room that I didn't know about and thus never cleaned. I also neglected to take out the trash and left the living room coated in the noxious perfume of an organic cedar disinfectant. "I respect what you are trying to do, and you did an OK job in the time allotted," he says. "But frankly, stick to being a reporter."
The apartment is one stop in the middle of my short, backbreaking, soul-draining journey into what Silicon Valley venture capitalists often call the distributed workforce. This is the fancy term for the marketplace for odd jobs hosted by the site TaskRabbit, the get-me-a-soy-latte errands offered by the courier service Postmates, and the car washing assignments aggregated by yet another venture, called Cherry. These companies and several others are in the business of organizing and auctioning tedious and time-consuming chores. Rob Coneybeer, managing director of the investment firm Shasta Ventures, which has backed several of these new companies, says the goal is to build a new kind of labor market "where people end up getting paid more per hour than they would have otherwise and find it easier to do jobs they are good at."
The idea of posting or finding jobs online isn't new. Craigslist, the pioneering Internet bulletin board, allowed the primitive, gentle folk of the 1990s to find day work, not to mention cheap dates. These new services are different, partly because they're focused and carefully supervised, and partly because they take advantage of smartphones. Workers can load one of these companies' apps on their location-aware iPhone or Android device and, if the impulse strikes, take a job near them any time of day. Employers can monitor the whereabouts of their workers, make payments on their phones or over the Web, and evaluate each job after it's accomplished. The most capable workers then rise to the top of the heap, attracting more work and higher pay. Lollygaggers who don't know how to recharge their Roombas fall to the bottom of the barrel.
Distributed workforce entrepreneurs and their investors are thinking big. They compare their startups to fast-growing companies such as Airbnb, which allows people to rent out their homes. In this case, the assets for rent are people's skills and time. Leah Busque, a former IBM software engineer who started and runs TaskRabbit, says thousands of people make a living (up to $60,000 a year) on her site, which operates in San Francisco, Los Angeles, New York, Chicago, and five other cities. "We are enabling micro-entrepreneurs to build their own business on top of TaskRabbit, to set their own schedules, specify how much they want to get paid, say what they are good at, and then incorporate the work into their lifestyle," she says.
Venture capitalists have bet $38 million on TaskRabbit and millions more on similar startups. Other distributed labor companies, with names like IAmExec (be a part-time gopher) and Gigwalk (run errands for companies) are being founded every day. Listening to this entrepreneurial buzz all summer, I got a notion that I couldn't shake—that the only way to take the temperature of this hot new labor pool was to jump into it.
Day One: TaskRabbit
Steve H. wants me to weed his lawn. Specifically, it's a wood-chipped side yard pocked with crabgrass and velvetleaf, which runs the length of his home in Oakland, Calif. He explains that his wife has rheumatoid arthritis and can't perform this kind of work. (It's not clear what his problem is.) As we meet, their Jack Russell-Chihuahua mix warmly greets my right leg.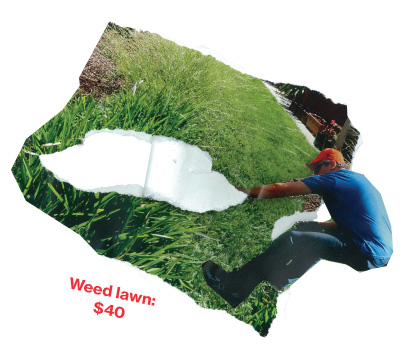 I'd won the right to weed Steve's yard with a $40 bid on TaskRabbit. As the sweat drips down my back under the hot East Bay sun, I suspect that I sold myself short. My bid, placed after clearing the site's mandatory criminal check, was the lowest of several. Steve concedes he got a bargain. They are kind people, Steve and his wife, and they furnish me with cold water, gloves, and a composting can. Two hours later I'm done, and they tip me $10, paying TaskRabbit with a credit card, so there's no awkward exchange of cash (later I can withdraw this money from TaskRabbit via check or PayPal). Steve also gives me a positive review on the site.
Looking to augment my micro-entrepreneurial income, I peruse the TaskRabbit listings. I bid to help Danielle D. unpack some boxes and to save Josh L. the embarrassment of delivering a dog crate to his ex. I lose out on both jobs because I've been underbid—or maybe I'm scaring customers off by confessing upfront that I'm a journalist. Just as the day is turning into a bust, I place a successful $25 bid to help Jeff R. break down boxes in his garage. I jump in my car and drive to his home in southern San Francisco.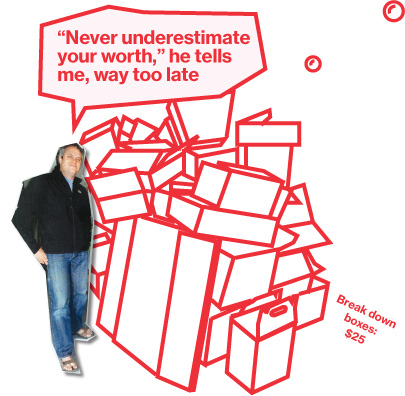 Although he's accumulated the most formidable mountain of empty boxes I've ever seen, Jeff R. is personable. He too has arthritis and has used TaskRabbit to find someone to wash the exterior of his house, paint a room, and move furniture. "I can't do much until I get my knees replaced," he says. Breaking down the boxes is vigorous work, but he keeps me company. As before, my heart sinks when he tells me how much I lowballed my bid. The job takes about an hour, but I'm shocked to learn that Jeff expects me to haul all the flattened boxes away. I leave with a packed car and the sense that I have somehow joined the community of urban recyclers who forgo vehicular hygiene.
Things have gone well though, and now I'm cocky. I bid to clean the two-bedroom apartment with grand views, placing what seems like a fair $32 offer because "Curtis Jackson," the founder of a biotechnology firm, has advertised the task as a one-hour job. (Jackson is not his real name; he asked me not to use it, which is fine because I am not a real housecleaner.) I bring my Roomba and some cleaning supplies and am horrified to see the state of the bathrooms, which do not appear to have been cleaned in some time. I make a total hash of it, using a single, disintegrating sponge for the entire house, streaking his windows and mirrors and catastrophically overapplying Soft Scrub. Curtis is clearly disappointed when I attempt to leave. It would take him a few days to pay me, and he wouldn't leave a review. Trust me, an army of Marriott chambermaids could not have cleaned that palatial spread in one hour.
At the end of the day I stink of cardboard and organic cedar. I call Chris Mok, a top-ranked local TaskRabbit who earns up to $1,500 a week. Mok was laid off from his job as an art buyer at Macy's in 2009 and now spends most days, including weekends, on handyman assignments such as assembling Ikea furniture. (TaskRabbit also uses him as a spokesman.) His advice: Focus on one type of job because you develop a clearer idea of how to bid for each task. "Never underestimate your worth," he tells me, way too late.
Day One earnings: $125
Mood: Exhausted
Day Two: Cherry
Travis VanderZanden has an ambitious goal: to build the first nationwide car wash service. His year-old startup, Cherry, is tackling the $19.5 billion car wash market by harnessing a small army of unskilled workers with free time, outfitting them with washing kits and iPhone apps and sending them out to clean cars where they're parked. "There's a huge unemployed population in this country so we have no shortage of people applying to be a part of this," he says. The service is live in San Francisco and San Diego, and there are plans for rapid expansion. For a day, I'm going to help by donning a salacious red Cherry T-shirt with the slogan, "let the car wash come to you."
I start by visiting Cherry's offices and spend the first hour watching training videos ("don't forget the door jambs"). Then I'm apprenticed to Kenny Chen, 29, an experienced car washer with lanky arms and quick hands. We descend on a parked black Honda on a busy street in San Francisco's Noe Valley neighborhood. We will never meet the owner; she has ordered and paid $35 for the deluxe interior-exterior package from the Cherry app on her iPhone and has left her car unlocked.
In the ingenious, waterless Cherry system, washers use a series of towels and a proprietary cleaning solution that the company describes only as "eco-friendly." As we scrub, Kenny says he dropped out of college but wants to go back to get his degree in criminal justice. Because he's good at washing cars, he gets paid $15 an hour; as a newbie I would earn $12.50 per hour. As we move to the Honda's roof, Kenny points out that the car is parked directly under a bottlebrush tree buzzing with scary-looking bees. For a pregnant moment, we stare at each other. Then he clambers up and does not get stung.
The inside of the car is a horror show. Goldfish crackers litter the back and an uneaten peach decomposes under the passenger seat. Again, Kenny is unperturbed. "This is nothing," he says. "Sometimes there's so much dog hair it's like there's a nest in the car." After we're done, we lock the car and leave.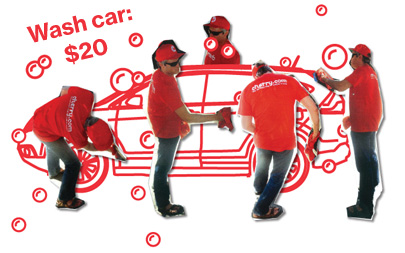 We drive a few blocks to wash a black Toyota, and then I'm cooked. My back hurts, I've gotten sunburned, and it's only 2 p.m. The next day, I ask for a review from Kenny. "You can tell he tried to be thorough," he wrote on Cherry's site. "Two points of concern: Brad needs to look out for traffic and watch for missed spots on the exterior."
Day Two estimated earnings: $50
Mood: Sore
Day Three: Postmates
TaskRabbiting felt ignominious. Washing cars for Cherry was physically grueling. Joining the Postmates messenger corps was both. The startup, says founder Bastian Lehmann, aims to be a "Fedex within a city." Customers submit orders via Postmate's "Get it Now" smartphone app to have something delivered—groceries, say, or a sandwich. The job is then routed to nearby smartphone-toting couriers who compete to be the first to press "accept" and take the job. Unlike infamous dot-com era flameouts Kozmo.com or Webvan, Postmates holds no inventory. The courier has one hour to buy and deliver the goods in murderous city traffic. A timer on the phone helpfully ticks down the seconds, Jack Bauer-style.
At Postmates HQ, I'm issued a debit card and an iPhone pre-loaded with the courier app. I pay for the deliverables with the debit card, customers pay me via the app, and Postmates cuts me a check at the end of the day after taking a commission of around 20 percent. Unlike the other couriers, I decide against a scooter or bicycle and stick to my cardboard-scented station wagon. This raises the specter of a parking ticket. I chance it.
My first job requires buying pastrami and andouille sandwiches at a barbecue joint called Memphis Minnie's and delivering them across town. I barely make it in time, but the feedback is instantaneous: The customer signs for the order by tapping out his signature on my iPhone and adds a $5 tip. For my next job, I wait 30 minutes in line at the Blue Bottle coffee stand at the Ferry Building to buy four drip coffees and two soy cappuccinos and then rush them to a law firm across the street. I only spill a little. "We're having a primer on patent law so, as you can imagine, this will be well received," says the employee who greets me. Tip: $7.
After missing out on several jobs because I don't hit "accept" fast enough, I buy two teas from a boutique coffee shop and deliver them to an apartment building. Next: Whole Foods to buy and deliver groceries to an employee at Postmates, who I assume is just wondering how I'm doing. I tell her what I've learned: People generally don't look messengers in the eye, and there's nowhere for couriers to use the bathroom.
By late afternoon my car is out of gas, my iPhone out of juice, and my bladder out of room. I've made plans for Days Four and Five of this experiment but opt to return to my sheltered life at the keyboard. It's not that I've grown cynical. I'm actually beginning to think these companies may be building something significant: a uniquely American safety net for the unemployed or underemployed, who will now have somewhere to turn when they need to make money. "If you weren't out washing that car you'd probably be sitting at home twiddling your thumbs," says Hal Varian, Google's chief economist. "Improving the efficiency of finding jobs is a really big deal, even if it's sporadic work." My three-day haul won't feed my family. But the systems are in place, the underlying tools such as smartphones are ubiquitous, and the companies are growing rapidly.
For one of my last jobs, I deliver two burrito bowls from Chipotle to a video-game engineer a few blocks away. On the way home, I have another thought: Perhaps these startups are encouraging a whole new level of American sloth. We've outsourced housecleaning, car washing, and Ikea-furniture assembling. Now we can't even expend the energy to get fast food. But maybe I'm just bitter. The engineer only tipped me three bucks.
Day Three earnings: $50.69
Mood: Grateful to be done
Before it's here, it's on the Bloomberg Terminal.
LEARN MORE