Meet the New MBA Journal Writers
Francesca Di Meglio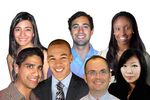 Every year people come to Bloomberg Businessweek to read about what it's like for new students to be in the trenches at a top business school. They write about the notorious disease FOMO (Fear of Missing Out) that many an MBA confronts, applying to internships and jobs, and networking for the future. Readers follow them through good times (snagged an interview with dream company) and bad (got rejected by dream company). This year will be no different. So, without further ado, meet the new MBA Journal writers:
CATHY MAE FAVORITO
Program: University of Notre Dame Mendoza College of Business
After five years at a technology company, Favorito, who is from the Philippines, decided to pursue an MBA so she could move into an operations management role in the tech sector. Favorito says she hopes to offer MBA Journal readers an insider's look at applying to jobs in the U.S. from someone who needs sponsorship for a visa.
Fun Fact: Favorito has a strong interest in theater and performed as part of the chorus in a musical at her undergraduate university in the Philippines.
JADE HUANG
Program: INSEAD
An aspiring entrepreneur with an idea for her own business, Huang says she chose INSEAD for its truly diverse student body and locations in France and Singapore. Huang originally pursued fashion design at Parsons in New York, only to realize that she hated sewing. She dropped out of that undergraduate program, became a Web designer, completed her degree at the Fashion Institute of Technology while working full time, and earned a graduate degree in economics at Columbia.
Fun Fact: Huang is trained as a classical pianist.
KRISTEN JONES
Program: Harvard Business School
Jones, who was first an analyst in retail and then went into merchandising, says she is hoping HBS can help her move into a new career that suits her better. Expecting business school to help her match her strengths to a new career, Jones does not yet know exactly what field she wants to pursue after graduation.
Fun Fact: She has performed stand-up comedy in New York and is planning to do the same in Boston while at school.
NEAL NISARGAND
Program: University of Chicago Booth School of Business
An engineer, Nisargand always had an interest in business. He is also a native of Seattle, and he and his dad invested in Starbucks stock when he was a kid. Earning his spot at Booth in the third round after getting off the waitlist, Nisargand says he wants to share "the fun days and not-so-fun days" with readers in his MBA Journal entries.
Fun Fact: He currently serves in a Chicago-area Army Reserve unit.

GREGORY PAIGE
Program: UCLA Anderson School of Management
"I was looking across the desk at my clients, and I realized I wanted to do their jobs more than I wanted the jobs of my bosses," says Paige, who was in account management in advertising, of his motivation to apply to business school. A reapplicant who had gotten rejected from the schools to which he applied in 2009, Paige says he needed the additional years of work experience to improve his application and future outlook.
Fun Fact: Paige has been taking gymnastics lessons for the past couple of months, and he says he is close to a back handspring.
TIMOTHY SALLIE
Program: University of Illinois College of Business
Sallie, a native of Australia, is different from most MBA students because he is entering his program straight out of undergrad. He had only four days to study for his GMAT and took the test in the middle of his final exams. With an interest in accounting, Sallie says he was attracted to Illinois because he can tailor his degree to meet his needs.
Fun Fact: Sallie is enrolled in skydiving school and is planning to learn how to solo skydive.
NUPUR SHARMA
Program: Oxford University's Saïd School of Business
Feeling limited in her consulting job, Sharma decided an MBA would help her carve out a new path—either in nonprofit work or in clean technology. Now she's aiming to determine which field would be better for her and to participate in a sports competition for MBAs in Paris.
Fun Fact: Although Sharma is quite involved in snowboarding, she does not know how to ride a bike, which is another skill she is planning to pick up during her first semester at Saïd.
THOMAS SNEED
Program: Evening MBA program at Emory University's Goizueta Business School
An associate law librarian at Emory's School of Law, Sneed might be the most unlikely MBA student ever to write a journal for this site. With classmates who are about 10 years younger and interested in completely different fields, Sneed finds himself answering lots of questions. "I immediately feel the need to explain why I'm doing this," he says. He aims to use his MBA to move up the ladder in the law library and says he will write about applying what he is learning in class to his current job.
Fun Fact: Having recently moved to Atlanta, where winter sports are virtually nonexistent, Sneed remains loyal to his favorite hockey team, the Columbus Blue Jackets.
Before it's here, it's on the Bloomberg Terminal.
LEARN MORE