MBA Alumni in the News: Sept. 13
Louis Lavelle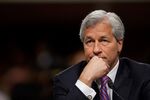 Each week, Bloomberg Businessweek brings you an update on how MBA alumni from top business schools are making news—the good, the bad, and the ugly. This week, graduates from Harvard, Wharton, Columbia, and INSEAD were among those making headlines.
You Gotta Do What You Gotta Do: A former Wharton MBA, Rajiv Goel, "substantially aided" the prosecution of a classmate, Raj Rajaratnam, by testifying against the Galleon Group co-founder last year, U.S. Attorney Reed Brodsky said in court papers. Goel, a former Intel managing director, is seeking to avoid jail time. He pleaded guilty to conspiracy and securities fraud charges in 2010 and faces up to 25 years in prison for telling Rajaratnam about Intel's earnings in 2007 and a $1 billion transaction in 2008.
Ouch: After losing $5.8 billion on botched derivative bets this year, JPMorgan Chase is considering a bonus cut for Chief Executive Officer Jamie Dimon, the Wall Street Journal reported. Dimon, an MBA graduate of Harvard Business School, earned $23 million in salary and bonuses in 2011.
Trimming Headcount: Eastman Kodak CEO and INSEAD MBA Antonio Perez says the bankrupt company plans to cut an additional 1,000 jobs by yearend. The latest job cuts are in addition to 2,700 earlier this year. Hewlett-Packard, with Harvard MBA Meg Whitman at the helm, said it plans to to cut 29,000 jobs through 2014 as part of a reorganization plan, up from 27,000 estimated earlier.
Strategy Overhaul: The co-chief executives of Deutsche Bank, Anshu Jain and Juergen Fitschen, announced a plan to cut costs by $5.8 billion and review pay practices to boost profitability. Both executives have MBAs, Jain from the University of Massachusetts at Amherst's Isenberg School of Management, and Fitschen from the University of Hamburg.
I'm in Charge Here: Under its revised offer for Xstrata, a Swiss mining company, Glencore International said it would name its CEO, Ivan Glasenberg, a 1983 graduate of the University of Southern California's Marshall School of Business, chief executive of the combined company. The move reverses an earlier plan for the position to go to Xstrata's Mick Davis, who is now said to be prepared to leave the company.
Taking on the Big Boys: Janet Cowell, the treasurer of North Carolina and a Wharton MBA graduate, is "working intensely behind the scenes" to build a case against the world's largest banks over the Libor scandal, the New York Times reported. She's trying to determine how much the state's investments may have lost due to manipulation of the London interbank offered rate, or Libor, an important benchmark for trillions of dollars in investments.
Moving Up: Ford Motor directors are preparing to promote Mark Fields, the company's president of the Americas and a 1989 Harvard MBA, to chief operating officer and probable successor to CEO Alan Mulally, who is expected to retire at the end of next year. Leo Denault, the chief financial officer of Entergy and a 1991 MBA graduate of Indiana University's Kelley School of Business, is replacing Wayne Leonard as chief executive. Leonard is retiring on Jan. 31. Related Cos. named Wharton MBA Jeff Blau chief executive, replacing founder Stephen Ross, who will remain as chairman. Alcatel-Lucent CFO Paul Tufano, a Columbia Business School MBA graduate, was named to the newly created role of chief operating officer. Tufano will retain the CFO title.
Moving Out: Scott O'Neil, a Harvard MBA and president of Madison Square Garden Sports, resigned, giving no explanation. New York City's chief investment adviser for pensions, Yale MBA Ranji Nagaswami, quit to join Bridgewater Associates, the world's biggest hedge fund. Nagaswami was hired in 2010 to consolidate management and investment practices for five pension funds, but the plan was stymied by union opposition. Talisman Energy CEO John Manzoni, an MBA from Imperial College London, stepped down without explanation. He is being replaced by a board member, Hal Kvisle, an MBA graduate from the University of Calgary. Under pressure from activist investor Nelson Peltz, Legg Mason said CEO Mark Fetting, a Harvard MBA, will step down on Oct. 1. Fetting has struggled to end client withdrawals and reverse a 65 percent decline in the company's stock price since he became CEO in 2008.
Staying Put … for Now: EMC said CEO Joseph Tucci, a 1984 MBA graduate of Columbia Business School, will stay at the company at least through February 2015. The board expects Tucci to relinquish the CEO role while retaining the title of chairman sometime earlier. The company previously said Tucci would remain CEO at least until the end of 2013.
Join the discussion on the Bloomberg Businessweek Business School Forum, visit us on Facebook, and follow @BWbschools on Twitter.
Before it's here, it's on the Bloomberg Terminal.
LEARN MORE