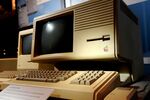 The graphic user interface (GUI) brought about a revolution, but there has been no great leap forward since then. The next big changes are likely to again focus on the interface. The first signs of change are visible in voice recognition and touch screens, but this technology is still young and underdeveloped. We are likely to be wowed again by products from Apple as this process unfolds.
—"The Macintosh at 25," Japan Times editorial, 01 February 2009.
Still young and underdeveloped.
This wonderful statement of Japanese grace, deep from the gloomy depths of 2009, is one part Bill Murray not quite getting Japan … one part the business voice of a nation awestruck, or at least struck, by the initiative of Mr. Jobs's Fortress Cupertino.
I was completely taken by this "again" video as the iPhone 5 was birthed this afternoon. Watch it to understand the single word that matters.
Aesthetics.
I have no idea if this is it for AAPL. (I do not own shares. But maybe; I own shares in a properly diversified portfolio.) I have no idea if AAPL will "wow us again as the process unfolds."
Volumes will be written, written on specs, features, and benefits. I know only one thing for certain.
Don't overthink. The aesthetic and legacy of Mr. Jobs is intact. But his generational achievement, his singular excellence, always and forever will be lost in translation. Discuss.
Before it's here, it's on the Bloomberg Terminal.
LEARN MORE