How Movie Studios Make Money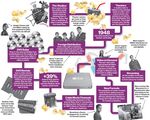 Digital distribution of content hasn't doomed the movie business, as studios have discovered there's life after DVDs. Disc sales and rentals have fallen, yet they still make up the bulk of revenue. Now there's also video on demand, new formats such as Imax and 3D, and streaming services from Netflix and Amazon.com.
Before it's here, it's on the Bloomberg Terminal.
LEARN MORE