business
Hello, iPhone 5! Goodbye, Point & Shoot Cameras, We Hardly Knew Ye
Apple's new smartphone is just one more nail in the coffin of low-end cameras
By
Hello, iPhone 5! Goodbye, Point & Shoot Cameras, We Hardly Knew Ye
Apple's new smartphone is just one more nail in the coffin of low-end cameras
By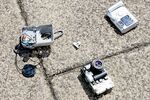 Did you hear that? That anguished wail yesterday at around 10 a.m. Pacific? That was the point-and-shoot camera industry.
Yesterday's Apple event highlighted the ever-quickening pace that the smartphone industry is taking casual photography, and the ramifications are significant for camera makers—and more for some than others.
There's little debate anymore: For quick snapshots a smartphone is every bit as good as an inexpensive point-and-shoot. Apple's new iPhone features an 8-megapixel camera that also shoots 1080p HD video. It has a LED flash, face detection, and can take ultra-wide panoramic shots.
So the iPhone is equal to many point-and-shoots when it comes to performance. But it, like other smartphones, offers more than just that. The things people care about—sharing photos, using filters, and having a device by their side at all times—trump most of the features and settings camera makers offer with their standalone products.
Most point-and-shoots still lack any wireless connectivity to the Internet. Without that, sharing photos becomes a cumbersome process.
That so many cameras remain unconnected is astonishing. A year and a half ago, Sony was rumored to be working on a camera with a 3G chip inside it. The rumors subsided, and no camera appeared.
Why not? As Amazon demonstrated with its Kindle, you can put a cellular connection into a device and make it in such a way that the customer doesn't really have to think about it. It's true that sending photos over the Internet is different than sending the text of a book, but surely someone could structure an annual plan that was simple and not terribly expensive. If I were Sony, I'd even give the first year away for free, just to get people on board.
If you're Canon, Nikon, Sony, or maybe one or two other camera brands, you do have somewhere to go if smartphones are destroying your point-and-shoot business: You can move upmarket. More smartphone cameras means more cameras, which, conceivably, put more people on the ladder of photo enthusiasm. They'll start taking pictures with their smartphones, get into the practice of taking photos, and want something more powerful.
At which point you can direct people to your lovely collection of SLRs. As a camera maker, you're not likely to move as many SLRs as you did point-and-shoots, but SLRs are naturally more expensive, with higher profit margins, so you may be able to manage a soft landing after your low-end camera business evaporates.
But what do you do if your SLR line is weak, or nonexistent? Camera makers such as Casio Computer, Samsung Electronics, and Konica Minolta may not have anywhere to go when the point-and-shoot market dries up. Kodak was beset by many problems, but certainly one of the big ones was the rapid decline of their point-and-shoot division and the inability to move upmarket.
Apple's announcements yesterday were just the latest in an ongoing shift. Last week, Nokia touted its new Lumia phones' photo capabilities (and got in trouble in the process, when a demonstration video turned out to be misleading and shot with an SLR, not one of their phones). The introduction of a stronger camera in the iPhone 5 and the new iPod touch—which comes with a very camera-like wrist strap, just to drive home the point Apple is making about how they think people will use that device—is just another step on the point-and-shoot's accelerating journey to obsolescence.