ForumWatch: The M&M GMAT Strategy
Francesca Di Meglio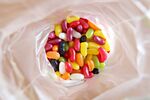 Eager applicants to top business schools often visit the Bloomberg Businessweek Business School Forums to gripe about the GMAT. Most often, they complain that their score is too low. Once they get that out of their system, they usually ask for help. They want to know what to do to raise their scores, how to study, whether to take a test prep course, and what their chances will be if they can't raise the score.
Recently, mbastnt began a discussion thread about this very topic. Many advised mbastnt to take the test again because 650 was not a high-enough score for the big-name schools. One person suggested eating protein before the test and candy during it to gain clarity from the sugar high. Although there's no proof that M&Ms will lead to a higher score, it is an interesting post that grabs attention. What would you suggest? Join the discussion at the "Bad GMAT Scores" discussion thread.
Editor's Note: This blog post is part of a series about discussions taking place on the Bloomberg Businessweek Business School Forums, where prospective MBA program applicants, current students, and recent alumni trade admissions tips, job-hunting advice, and the occasional barbed comment. We invite you to join these discussions or start one of your own.
Join the discussion on the Bloomberg Businessweek Business School Forum, visit us on Facebook, and follow @BWbschools on Twitter.
Before it's here, it's on the Bloomberg Terminal.
LEARN MORE