Five Facts About Germany's Big Court Decision
Ruling saves 500 billion bailout fund
By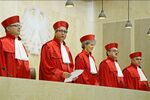 Admit it. The first thought you had about the big court decision in Germany on Wednesday was: What's up with the justices' exotic red robes and caps? The medieval look—which makes them resemble a painting called Federico da Montefeltro by Piero della Francesca—is an anachronistic contrast to the brutalist concrete building that the high court occupies.
First things first, though. As reported by Bloomberg News, the Federal Constitutional Court in Karlsruhe upheld Germany's participation in a €500 billion ($644 billion) permanent rescue fund for the 17-nation euro zone. While expected, the unanimous vote was a victory for Chancellor Angela Merkel, who has staked her chancellorship on preserving the euro zone. The court did say that Germany can't increase its contribution without legislative approval.
Here's what you need to know:
1. What difference does this ruling make? It should calm financial markets by assuring investors that Europe will stick with its plan to create a bailout fund for countries that are having trouble paying interest and principal on their government bonds. Germany is on the hook for €190 billion, which is 38 percent of the entire fund. The ruling "is another big step toward defusing the euro crisis," Holger Schmieding, chief economist at Berenberg Bank, wrote in a note to clients.
2. Did the court find the new fund to be constitutional? Technically, no. It simply ruled against requests to block the German president from signing a bill authorizing Germany's participation.
3. What limits did the constitutional court put on the bailout fund? It said that under the treaty establishing the European Stability Mechanism, the fund can't borrow from the European Central Bank or deposit funds in the bank as collateral. The German legislature must remain "the place in which autonomous decisions on revenue and expenditure are made," the judges said. It also said Germany can't accept liability "for decisions by the will of other states, above all if they entail consequences which are hard to calculate."
4. Who are the losers in this ruling? The requests for an injunction to block the new fund were filed by plaintiffs including a political group called Mehr Demokratie (translation: More Democracy); the leftist opposition party Die Linke (translation: The Left); and Peter Gauweiler, a lawmaker from the Christian Socialist Union, which is the conservative, Bavarian sister party of Merkel's Christian Democratic Union.
5. Huh? Karlsruhe? Yes, the high court is based in Karlsruhe, not one of Germany's bigger cities. It's in Baden-Württemberg in southwestern Germany, a few miles from the French border.
Before it's here, it's on the Bloomberg Terminal.
LEARN MORE