EADS and BAE: A Giant in the Making
The companies confirm merger talks
by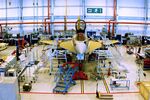 Europe has tried for more than a decade to build a defense business to rival Boeing and other U.S. aerospace giants. Now that goal could be within reach. The European Aeronautics Space & Defence Co., the parent of Airbus, is in advanced talks about a possible merger with British defense group BAE Systems.
BAE and EADS confirmed the discussions in a statement Sept. 11 after the talks were initially reported by Bloomberg News. They said the merged group would be owned 60 percent by EADS and 40 percent by BAE. The two companies would remain separately listed, however, and some BAE holdings would be "ringfenced" to protect existing defense contracts.
Such a deal looks like a win for both companies. It would help EADS to limit its exposure to the highly cyclical civilian aircraft business, which accounts for the lion's share of its sales and profit. BAE, for its part, faces declining defense spending in Britain and the U.S., its key markets. "It looks like a very interesting proposition for both [companies'] sets of shareholders," says Zafar Khan, an aerospace analyst with Société Générale in London. BAE shares jumped more than 7.7 percent on the news, while EADS shares fluctuated but were mostly down.
EADS, whose ownership is mainly Franco-German, has tried since the company was created in 2000 to build up its defense business, particularly in the U.S. But it has faced repeated setbacks, including the loss to Boeing of a $35 billion Air Force refueling tanker deal.
BAE, by contrast, relies almost entirely on defense contracting and books 43 percent of sales in the U.S., more than the 29 percent it gets from its home market. But that has put the company at risk, as U.S. defense budgets are expected to shrink over the next decade, Khan says.
BAE and EADS already cooperate on the Eurofighter jet, and BAE previously owned a stake in Airbus that it sold in a move to concentrate on its defense business. EADS annual sales are $70 billion; BAE's are $28 billion.
Before it's here, it's on the Bloomberg Terminal.
LEARN MORE