business
Carbon Chronicles: Climate Change Becomes a Business Reality
By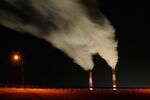 This is the year climate change should have hit home. The first eight months are the hottest on record in the U.S., and Arctic sea ice is about to hit a record low. Extreme weather, as we've come to call it, has affected everything from the juiciness of the steak at Peter Luger (high corn prices mean steer are being killed before there's sufficient fat in the marbled meat) to crime rates, as some blame the recent heist of $30 million of maple syrup in Quebec to a one-third drop in U.S. production.
No wonder the Carbon Disclosure Project has seen a sharp spike in the number of large companies that view global warming as an immediate threat to their operations. The percentage that see danger right now has jumped to 37 percent of respondents in this year's CDP Global 500 Climate Change Report, released on Sept. 12, up from 10 percent just two years ago. Climate change has moved from the realm of abstract debate to a business reality in much of the world.
And yet 2012 has been marked by stalled negotiations and frustrated efforts to reduce greenhouse gases on the policy front. The takeaway from the discussions today with a mix of business leaders and investors at the CDP Global Climate Change Forum, which I moderated from New York, is that growing private-sector efforts to reduce greenhouse gases simply can't move the needle on its own.
What's needed is government action to curb emissions through everything from taxes, carbon caps, and credits that can be traded, as well as incentives to invest in projects and products that may not pay off for years. The reality is that recession-whacked politicians have other priorities, especially in Washington. Alan Brown, a senior adviser at Schroders, the London-based asset manager, argues that sufficient progress can't happen unless Americans are forced to change the way they consume. Meanwhile, such measures as Europe's carbon emission fees for airlines are at risk of being gutted by countries including China and the U.S., both of which are threatening to retaliate if their carriers face extra fees on European routes.
The challenges of coping with climate change are well understood. Politicians and business leaders tend to be rewarded for short-term gains over long-term investments. Both the scale and the catastrophic implications of climate change can induce a sense of paralysis. Reducing waste or replacing light bulbs seem like baby steps next to the billions of consumers in emerging markets who are eating more meat, buying more cars, and moving up the pollution pyramid as they become more affluent. Public anxiety levels tend to ebb and flow with energy prices and the latest catastrophe. Cheap shale gas has its problems, but you're not going to see them at the pump.
That's where the Carbon Disclosure Project adds real value. By harnessing the power of institutional investors who control $7.8 trillion in assets worldwide, the U.K. nonprofit group has prompted many of the world's largest companies to disclose carbon emissions and set concrete goals to reduce them. Many of those companies are multinationals, such as Wal-Mart Stores, General Electric, and L'Oréal, that can pressure suppliers to reduce emissions as a condition of doing business. Global players like Wyndham Worldwide are also working with rivals and industry groups to establish a uniform methodology to measure and report carbon emissions at hotels around the world. Such efforts are one reason why Wyndham's chief sustainability officer, Faith Taylor, believes it will become the norm for companies to integrate measures like emissions into earnings reports.
The challenge is finding the right catalyst that will spur action now. For PricewaterhouseCoopers' Malcolm Preston, whose sustainability and climate change team worked with CDP in drafting the report, the key is clear direction on the regulatory front, as few leaders of public companies are willing to make long-term investments without it. Putting a price on carbon is another priority for Rachel Kyte, the World Bank's sustainability chief, because that creates clarity and potential profits from doing the right thing. Tata Steel's Anand Sen spoke of the need to address consumers in emerging markets, who are often first to bear the brunt of climate change, while drafting measures that let companies stay competitive as they try to curb emissions.
The most daunting task is finding a way to engage two frenemies on the fringe of the debate: the U.S. and China. Both countries churn out awe-inspiring levels of carbon while demonstrating a distinct disinterest in dramatic actions to reduce it. Not only have they done little to tame their own output, other than encouraging innovation in green technologies, but they have shown a willingness to derail the actions of others where it threatens jobs or profits back home.
What's likely to prompt a change of heart in those countries? One thing is money. The other is risk. Investors love the first and hate the second, especially when those risks can't be controlled. That's why business leaders increasingly see emissions reductions as not only a social responsibility but as a business imperative, says CDP Executive Chairman Paul Dickinson. (Several major Chinese companies now participate in the CDP survey, including PetroChina, Lenovo Group, and Baosteel.)
As more of the world's investors start to equate carbon emissions with business risk and base investment decisions on the data, Dickinson argues, money flows may drive behavior. For those now coping with a year of drought, flooding, and intense storms, the leap from preserving capital to preserving the planet no longer feels that large.
Before it's here, it's on the Bloomberg Terminal.
LEARN MORE