Apple Shows Off a Taller, Thinner, Faster iPhone 5
By and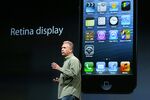 We are here at the Yerba Buena Center for the Performing Arts, a San Francisco venue familiar to Apple-watchers as the site of many product events. The usual mix of edgy-yet-not-too-edgy pop and rock (think when U2 really tries to "get down") fills the hall as most journalists train their eyes not on the stage in front of them, but the glow of laptops and smartphone screens.
And Tim Cook takes the stage, dressed as always in his trademark jeans and black, untucked oxford shirt. Apple events have a natural rhythm: we start with some low-level information and news about new stores, sales figures, etc. Cook is very excited about all this, but the rest of us are sticking to our knitting and waiting for the real news to be presented.
10:08 AM PT: We're now getting a recap of Mac and MacBook product. Cook mentions that MacBook and MacBook Air notebooks are now No. 1 in sales in the U.S. Apple is not only wining the new wars, it's going back in time and re-winning the old wars.
"We sold more iPads [through June] than any PC maker sold of their entire PC line." iPad market share went up after competitors entered the market. A rising tide, it would seem, raises only Apple.
Cook is now showing how companies are using the iPad to create custom apps for their employees and customers. GE Capital, Mayo Clinic, and Ducati are held up as examples of companies using iPad apps to increase productivity and/or sales.
10:15 AM PT: Cook's review of the iOS ecosystem shows what a firm hold Apple has on the mobile computing market. The most surprising statistic — 91 percent of Web browsing from tablets happens on the iPad. It really does suggest consumers have experimented with and rejected Android tablets. Apple has now sold 400 million iOS devices through June 2012. "Today, we're taking it to the next level." Phil Schiller, Apple's marketing chief, is now on the stage. He seems to be wearing the same clothes as usual, too.
OK, we have the new phone. The iPhone 5 resembles leaked photos that have been in circulation. It's not a radical redesign: as New York Knick Charles Oakley was fond of saying, "If it ain't broke, don't break it." With a four-inch display the iPhone 5 has a slightly larger display than the iPhone 4S, but is still smaller than the jumbo Galaxy Nexus from Samsung and phones like it. Schiller says the device is designed to optimize the dexterity of the thumb.
The new iPhone is taller and narrower. A fifth row of icons fits on the home screen. Native apps take advantage of this new real estate. Older apps run at the same size as they did on older iPhones; they will have a black letterbox to fill the new screen.
10:23 AM PT: So far, the rumor mill has been accurate: A bigger display, a narrower body, a new touchscreen. Sometimes the gossip goes wildly awry (when the 4S came out, some were showing intricate drawings and photos of entirely redesigned phones, which turned out not to be true). 4G LTE will now also be included, on Verizon, AT&T, and Sprint in the U.S. Again, no real surprise there.
Apple is really flexing its muscle up and down the supply chain. It's put its own A6 chip inside the iPhone 5, which Schiller says is twice as fast and 22 percent smaller than the last generation A5 that was in the iPhone 4. "Our expertise in chip design is really showing itself here," Schiller brags, and he brings out a game developer from EA Studios to demonstrate how a racing game sings on the phone.
Apple is a little like Porsche with its 911. The design is sound, and works (and sells). Year by year, it is refined, but never radically changed.
10:31 AM PT: A demo of Real Racing from EA is now being shown. Normally, these demos are sort of snoozy, but this one is actually pretty great. Worth noting that Apple shows off a game so early in the proceedings–the iPhone and iPod Touch have quickly become a big part of gaming, and Apple clearly wants to solidify and extend that position.
Slight, subtle dig at Nokia when Schiller shows off photos taken with the iPhone 5. "These are from the iPhone 5, unretouched." Nokia caught some hell (understandably) when it was revealed that a demo video it showed turned out to be shot with something other than its Lumia phones.
The camera in the iPhone 5 can take panoramic photos. You click to take a picture and software guides your hand as you move the phone across the landscape. The camera adjusts exposure as you go. Schiller shows some photos and it looks pretty incredible. I remember the original Kodak EasyShare that took panoramic photos and you had to take a number of different photos and then it stitched the pictures together.
10:40 AM PT: FaceTime is now available over cellular networks. Three microphones have been installed in the iPhone, up from two. This may help some of the problems Siri has had since it came out.
Apple's 30-pin connector has been on the Green Mile for a while now. Schiller is talking about how the world has changed since that connector first appeared in 2003. The new connector is called Lightning. It's reversible, so you don't have to find the "right" side. It's 80 percent smaller than the older connector. An adapter will be available to make your existing accessories work with the new phone.
10:44 AM PT: And now, Scott Forstall, Apple's iOS chief and generally the company's best presenter. He's demonstrating Maps, Apple's new mapping app that continues the company's distancing from Google. Turn-by-turn directions will now be available, something older iPhones lacked when compared to Android models. Satellite imagery is also available, including a "flyover" mode which lets you move through an image like you're Superman.
The new mapping and navigation service is a statement–that Apple can thrive without relying on Google Maps. It looks impressive; he shows satellite imagery of San Francisco and London, while Siri calls out turn-by-turn directions. But the challenge is how many cities this will work well in. Apple still hasn't proven it has the same breadth and depth of geographic coverage as Google. It will be interesting to try this out in less populated areas.
10:54 AM PT: Facebook is now integrated into Siri, as well as other apps. Apple moves away from Google (so long, Maps) , and toward Facebook and Twitter (hi, guys!).
Schiller is back on stage and says that Apple is selling two versions of the iPhone 5: a pure-black model–he says they refer to the color as "Slate"–and a white model with a slick silver finish on the back. He says, predictably, that it's the best phone Apple has ever made.
Pricing remains the same for all variations of the new iPhone (with a contract): $199 to $399, depending on storage. The 4S will be sold for $99, and the iPhone 4 will be free. Pre-orders will begin Sept. 14, and shipments will begin Sept. 21.
Apple once again shows up the competition: When Nokia CEO Stephen Elop introduced his company's make-it-or-break-it Lumia 920 and 820, he was unable to say when it would go on sale. This is what Apple does well: wow people, and then put it in their hands as soon as possible.
11:06 AM PT: Cook is now moving on from iPhone and talking about music, starting with iTunes. Eddy Cue is now onstage. He's saying that iTunes has been–wait for it–successful. There's a new iTunes store designed for the iPad and iPhone.
Pretty big win today for Facebook. Apple has announced that Siri posts automatically to a user's Facebook wall (unless Siri has gotten more accurate, hilarity is sure to ensue.) And a "like" button is now included next to every song and video in the updated iTunes store for iOS — but seemingly not, interestingly, for iTunes on the Mac and PC.
11:20 AM PT: A lot of time spent here on iTunes, which is warranted, as it had become a bit of a mess. But Cook said there'd be news on the iPod as well. Remember the iPod? Well, Greg Joswiak is now onstage to talk about that product line, starting with the iPod Nano. The new Nano has a larger, 2.5-inch display, adopting a tall-and-skinny shape that is akin to earlier Nanos and the new iPhone. The new Nano has an FM radio, and supports video. It comes in seven colors.
There's a new, 6.1mm-thick, 88-gram iPod Touch that has the same four-inch retina display as the new iPhone, encased in anodized aluminum. The iPod Touch uses an A5 chip, which was the chip in the iPhone 4S. And we get a demo of Clumsy Ninja, a game on the iPod Touch. It's genuinely delightful. It comes out this winter.
11:30 AM PT: The iPod Touch gains a 5-megapixel, flash-enabled iSight camera, which can take the same panoramic photos as the new iPhone. iPhoto is also available for the iPod Touch, and there's also a new strap that connects to the iPod, called the iPod Touch Loop. So long, point-and-shoots, those of you still left around.
Siri will now also be included in the iPod Touch, and the device comes in five colors. No mention of the iPod Classic — it may have been sent to a nice farm with other music players.
Apple is redesigning its ubiquitous white headphones. The new globular EarPods are more ear friendly, apparently. One size fits all and they don't create an uncomfortable seal. Apple says it spent three years on this. They're still white though!
The new EarPods look straight out of Kubrick's 2001. They avoid the plight of many headphones: removable inserts, which can often separate from the rest of the assembly and render earphones useless. EarPods are a unibody design.
11:44 AM PT: Cook gives us some new-product pep talk ("Only Apple could only make such amazing software, hardware, and services and bring them all together … Apple has never been stronger") and now it's on to the Foo Fighters, who are playing onstage as no one really pays attention. Motorola started their event last week with a band called The Kin. This is different than that, and yet similar.
Before it's here, it's on the Bloomberg Terminal.
LEARN MORE