Zuckerberg on Facebook's Stock, Mobile, and Morale
by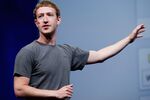 For the first time since his company's disastrous initial public offering on May 18, Facebook Chief Executive Officer Mark Zuckerberg spoke publicly about the social network's rocky path to the market, saying that the stock's performance has been "obviously disappointing." He also argued that investors may be underestimating the traction Facebook is getting on mobile phones, comments that helped the stock gain more than 3 percent on Tuesday.
Zuckerberg spoke with TechCrunch founder Michael Arrington in front of a packed audience at the annual Disrupt conference, held in San Francisco by the technology blog, a division of AOL. At times speaking as fast as a high school debater in his team's regional finals, Zuckerberg said investors may not fully grasp how much opportunity Facebook has on smartphones.
He said users are more likely to use the site every day on their phones than on their PCs, and that ads can be directly integrated into the service, rather than lurking on the side of the page, as they do on desktop computers. "We think we are going to make a lot more money than we do on the desktop," Zuckerberg said.
He also said the stock price—a gut-wrenching 50 percent drop since the IPO—"doesn't help" with employee morale. He noted, though, that "Facebook has not been uncontroversial in the past. It's not like this is the first up and down we've had." And he implied that the company would likely be furnishing employees with additional equity to compensate for the decreased value of their shares. "I think it's a great time for people to join and a great time for people to stay and double down," he said.
Speaking with an easy smile and none of the flop sweat that has characterized earlier appearances on stage, Zuckerberg blew through a number of topics. He said the company made the worst mistake in its history by betting on the open HTML5 framework for mobile phones—resulting in subpar apps for Apple's iPhone—and he waxed enthusiastic over Instagram, a startup Facebook bought in the spring for $1 billion.
Zuckerberg also said definitively that Facebook has no plans to build its own mobile phone: "It's so clearly the wrong strategy for us. We are building a network of 950 million users," he said. "Let's say we build a phone. Theoretically we could get 10 million or 20 million people to use it. It doesn't move the needle for us."
On the other hand, he signaled there's a big opportunity for the company in search, and he implicitly lobbed a grenade in the direction of archenemy Google. "Search engines are really evolving toward giving you a set of answers," he said. "When you think about it from that perspective, Facebook is pretty uniquely positioned to answer a lot of the questions people have"—such as which sushi restaurants friends have eaten at and liked. He added: "At some point we will do it."
Zuckerberg said he's still excited about the mission of the social network—to connect the entire world and allow them to share—and he claimed he doesn't mind taking a beating in the media. "I would rather be in the cycle where people underestimate us," he said. "It gives us good latitude to go out and take big bets and do things that are exciting."
Toward the end of the 25-minute conversation, Arrington asked Zuckerberg if he still writes computer code. He said he does, for fun, but that he doesn't formally submit code because he doesn't want to give his engineers the burden of fixing it. "Everything I do breaks," he said. And then, quickly realizing the import of those words, he added: "But we fix it quickly."
Before it's here, it's on the Bloomberg Terminal.
LEARN MORE