Researcher Unearths Record Manufacturing Trade Gap
By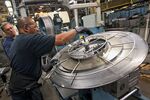 You won't find it in any government press release, but an independent researcher combing through Census Bureau data said Tuesday that the U.S. ran a record trade deficit in manufacturing in July—$63.9 billion.
"I said to myself, 'Boy, that looks high. I wonder if it's the all-time high.' And it was," says Alan Tonelson, a research fellow of the U.S. Business & Industry Council, which represents small manufacturers, many of which are threatened by rising imports.
The July deficit was nearly 5 percent higher than the previous high of $61 billion in October 2006, according to Tonelson.
The Census Bureau's International Trade Administration, whose monthly report was issued Sept. 11, isn't trying to hide anything. It reports the raw data necessary to calculate the record. But it doesn't do the math itself. Even the latest month's deficit doesn't appear in the press release. To find it, you have to go to line 4 on page 18 of the monthly report and subtract the total of imports ($144.9 billion) from exports ($80.9 billion).
To prove that the July total was a record took a lot more work. Tonelson sifted through years of archived reports one at a time.
President Obama argues that his administration helped save U.S. manufacturing and create an America "built to last." In Albany, N.Y., in May, he said, "For a lot of businesses, it's now starting to make sense to bring jobs back home." But as Bloomberg Businessweek reported in July, "For every company Obama praises for coming back home, there are others still shipping jobs out of the country."
The trade administration, a non-political agency, does highlight in its press release the U.S. trade deficit in advanced technology products like computers, which was $8.1 billion in July—high but not a record, according to Tonelson. Advanced technology products are a small portion of overall U.S. manufacturing trade.
In a written statement, Tonelson said the numbers show that "a domestic manufacturing renaissance remains a distant and possibly receding goal."
Before it's here, it's on the Bloomberg Terminal.
LEARN MORE