business
One Big 'Go to Cash'
By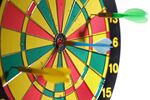 David Kostin has the second-most bearish view of stock-market performance this year among 15 strategists at Wall Street brokerages. He estimates that the Standard & Poor's 500 Index will finish 2012 at 1,250, 13 percent below its close of 1437.92 on Sept. 7. The median estimate is 1,425.
—Noah Buhayar, "Goldman's Kostin Says Messy Fiscal Cliff Outcome to Hurt Stocks," Sept. 10, 2012.
"The key message to investors is get in stocks," Howard Ward, a fund manager who helps oversee $35.6 billion at Gamco in Rye, New York, said in a television interview on Bloomberg Surveillance with Tom Keene and Sara Eisen. "It's not too late. If we can avoid a fiscal cliff-driven, recession-type of hit, we're going to have a new high in stocks in the next three or four months.

—Rita Nazareth, "Gamco's Howard Ward Says U.S. Stocks May Reach Record," Sept. 10, 2012.
The David and Howard Show is a daily occurrence. Sara and I will see you in December.
I suggest that both gentlemen are razor-sharp smart, holistic in thinking, and deadly serious about constructing a strategic theme and an attendant tactical humility for their clients.
The cynic, young Eisen, would suggest we get out the Surveillance dartboard (available in December 2012 at selected department stores in Cincinnati, London, and New York City).
I would suggest my great joy in interviewing these two as Sara and I search for the distinction in their debate.
Gloom abounds. Mr. Kostin has the emotional high ground, while Mr. Ward appears to book capital gain (or perhaps FOMC gain).
Forget the Kostin short; forget the Ward long. This is a surly September. Participants are miserable. The zeitgeist is one big "go to cash." Discuss.