NFL Players Tackle Gay Marriage; NFL Watches
By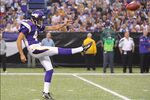 A lot of big news is coming out of the National Football League these days.
In August, the San Francisco 49ers became the first football team to create an "It Gets Better" video to support gay, lesbian, and transgender youth. Then Baltimore Ravens linebacker Brendon Ayanbadejo donated team tickets to a Marylanders for Marriage Equality fundraiser (the state is among four that will vote on same-sex marriage in November). And when a delegate to Maryland's House of Delegates complained to the Ravens' owner about Ayanbadejo's public support for gay marriage, Minnesota Vikings punter Chris Kluwe came to Ayanbadejo's defense with a spirited letter.
Oh, also: 13 NFL teams won on the league's opening Sunday, including Minnesota.
But back to gay marriage. With all the new, and perhaps surprising, attention its players are getting on the subject, what does the National Football League itself have to say? Not a thing. "We don't have a take," says Brian McCarthy, a league spokesman. "No position. No concerns."
And that may be the right approach, at least when it comes to protecting the NFL brand (and that of companies, too).
"I think the rule of thumb is that allowing players to express their points of view when appropriate is a good idea," says Allen Adamson, the managing director of the New York office of Landor Associates, a brand consultancy. "Trying to control what the players say is a bad idea. For the NFL, having a point of view on political and social issues is a bad idea. The NFL should be agnostic. It has to appeal to everybody."
Kluwe might not agree. In his letter, first posted on Deadspin.com, he responded with a sportsman's enthusiasm to the concern voiced by the Maryland delegate, Emmett Burns Jr., that football fans might be offended by players' support of gay rights. "Did you seriously just say that? … As recently as 1962 the NFL still had segregation, which was only done away with by brave athletes and coaches daring to speak their mind and do the right thing, and you're going to say that political views have 'no place in a sport.'"
A couple of days later, after receiving plenty of other criticism, Burns backed down and said that Ravens player Ayanbadejo had every right to speak his mind. No word yet on whether Kluwe still considers Burns a "narcissistic fromunda stain."
Before it's here, it's on the Bloomberg Terminal.
LEARN MORE