London's Paralympics: A Tough Sell in the U.S.
NBC takes heat for its minimal coverage of the games
By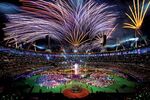 The 2012 Paralympic Games capped its 12-day schedule on Sept. 9 in London's Olympic Stadium with live performances by Coldplay, Rihanna, and Jay-Z. The closing ceremony drew a brief mention from NBC Nightly News anchor Brian Williams the following evening—and that was about it. Over the course of the games, the Peacock aired four hour-long highlight shows on its cable channel NBC Sports Network. Its broadcast network will also run a 90-minute special on Sept. 16. Altogether, that's four more hours than NBC devoted to the Beijing Paralympics in 2008 but a tiny fraction of the 400 hours that the U.K.'s Channel 4 aired, or the 5,535 hours NBC gave the London Olympics.