Every Year, This Gets Harder
by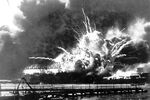 On this December 7, 1952, the 11th anniversary of the surprise attack on Pearl Harbor, I wish to call to your attention the fact that an attack of this nature can happen again. Because of the immense destructive power of the atomic bomb, we must maintain vigilance so that our cities and our industries will be less vulnerable to devastating attack. I therefore call upon all citizens who reside in communities which have been designated as possible enemy air approach areas to volunteer their services for this vital task.
—Harry S. Truman, page 1072, Harry S. Truman: 1952-53: containing the public messages, speeches, and statements of the president, January 1, 1952, to January 20, 1953
Truman, Harry S., 1884-1972, United States, Office of the Federal Register
I was born two days later.
It is the 11th year of Sept. 11, 2001. (Would anyone with half a brain have said 12/07?) We—and the president and the governor—are in search of our shared sacrifice, our "vital task."
The tension in adult voices echoes through my earliest childhood memories of Pearl Harbor. They never got over it. Will we?
Each and every year, this gets harder. Discuss.
Before it's here, it's on the Bloomberg Terminal.
LEARN MORE