Coaxing Foreigners to Bet on U.S. Entrepreneurs (Again)
by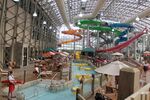 Should wealthy foreigners be able to buy permanent resident status in the U.S.? That's a question that surfaces whenever Congress considers renewal of EB-5, the decades-old federal program that makes green cards available to people who invest a minimum of $500,000 in U.S. companies that create or preserve at least 10 jobs in the country.
Fair or not, the program is going to be around for a while. The Senate approved the program's three-year reauthorization in August. The House, which on Tuesday was considering the same extension, is expected to sign off before the program expires at the end of September.
The EB-5 program accounted for a "tiny, tiny part" of the more than $227 billion in foreign direct investment in the U.S. in 2011, "but in a regional or local context, it can be very meaningful," says Audrey Singer, a senior fellow at the Brookings Institution. Singer is working on a paper about the program's utility for area governments, which she expects to release this fall. Her premise is that the program can help officials revive struggling areas in which traditional sources of capital have remained dry following the financial crisis. "A lot of people are looking at this now with new eyes, even though it's been around for years," she says.
EB-5 has attracted plenty of ire since its creation in 1990 because of problems that include companies falsifying job-creation numbers and middlemen here and abroad misrepresenting their ability to help foreigners get residency. "I don't think that the criticism is deserved because of the activity of a few bad apples," says Peter Joseph, executive director of the Association to Invest In the USA, a Chicago trade group that represents some 130 professionals and 66 regional centers involved in the deals. "But the majority, by far, are using this program prudently to induce economic development around their communities," he says.
Singer notes that few of the 200-plus regional centers around the country have actually completed projects, but she still thinks the program has potential. (In recent years, the number of regional centers has mushroomed, as we've previously chronicled.) Regardless of the program's shortcomings, she says, it's "easy to argue to keep it alive just because of the state of the U.S. economy."
Before it's here, it's on the Bloomberg Terminal.
LEARN MORE