China's Silence Only Fans Speculation Over Missing Xi
By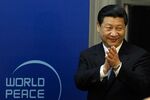 Global business executives, policymakers, and journalists mingling at the summer World Economic Forum China meeting in the northern coastal city of Tianjin aren't just discussing the future of health care, the rise of social media, and global economic rebalancing. In private banquets and over drinks, the tangled and murky politics of China's upcoming leadership transition is a prime subject, and a specific question is being asked with increasing urgency: What's happened to Xi Jinping, China's presumptive next party secretary and president?
It all started when the 59-year-old vice president didn't show up for a meeting with visiting Secretary of State Hillary Rodham Clinton on Sept. 5. Then it was Singaporean Prime Minister Lee Hsien Loong who got stiffed. Most recently, Danish Prime Minister Helle Thorning-Schmidt had been expected to meet Xi on Sept. 10, but that too fell off the schedule. It has now been more than a week since Xi's last public appearance, on Sept. 1 at a ceremony to welcome the newest class to the Beijing-based Central Party School. (Xi was not scheduled to attend the economic forum in Tianjin; Premier Wen Jiabao instead gave the opening address on Sept. 11, where he highlighted the economic challenges facing China.)
With no official explanation from Beijing, the rumor mill of China's blogosphere has shifted into overdrive. One popular explanation puts Xi's no-show down to a bad back, hurt in a soccer game or swimming. Others say it is due to an unspecified, but serious illness, perhaps one that has left his face contorted—not good for public viewing. More ominously, U.S.-based Chinese website Boxun.com earlier reported that Xi, as well as the head of the discipline inspection commission He Guoqiang—a member of China's elite nine-member Politburo Standing Committee—had been injured in separate automobile accidents the evening of Sept. 4 and were recuperating at Beijing's 301 Military Hospital.
That report, since taken down from the website, which has a mixed record in reporting accurately on Chinese leadership politics, suggested the dual accidents were part of an assassination attempt by supporters of recently ousted Chongqing Party Secretary Bo Xilai, a once-powerful princeling in Chinese politics. An incomplete and garbled official response arguably has only fanned speculation that something serious has happened. "We have told everybody everything," said foreign ministry spokesman Hong Lei at a press briefing in Beijing on Sept. 10, when asked about Xi's absence. He refused to provide any detail.
Why Xi has gone missing is only one of many questions being pondered in the runup to an historic leadership shift coming at a key Party Congress this fall. Other unknowns include when the party confab will be held—informed speculation says likely in mid-October (the Beijing Marathon has been delayed, many believe, to ensure it doesn't overlap), but there has been no official announcement. By contrast, at the last Party Congress held in October 2007, the official date of the meeting was announced during August.
Who will be the next top leaders on the standing committee and how they are chosen is also uncertain. Officially, they are selected by a vote in the 25-member Politburo, which in turn is selected by a vote of the 370-some members of the Central Committee. But in reality it appears to be a process of backroom negotiating among the current top leaders in the standing committee, as well as a few select party elders. Other than Xi, 57-year-old Vice Premier Li Keqiang (who is expected to replace Wen as premier), and a couple of other likely contenders, the rest of the membership of the standing committee is uncertain. Even its final size is unclear—nine members, as now, or a reduction to seven, as was true in the past, are both said to be possibilities.
"The process of succession remains very opaque," says Jean-Pierre Cabestan, head of the department of government and international studies at Hong Kong Baptist University. "So that of course opens the gate to all kinds of speculation—we are all in the dark."
Even if Xi Jinping does appear in public in the next few days, some are saying Beijing's secretive approach is damaging confidence in the country's leadership. "It is the typical response for Chinese leaders. Every situation where there has been a health problem of a [Politburo] standing member, it has always been kept secret—it may even go back into imperial dynasties. Certainly in the Communist era, that has been the absolute rule, and it is completely archaic in the modern world," says Robert Lawrence Kuhn, the author of How China's Leaders Think. He has met Xi on several occasions.
"This time it is likely something very minor. But by not explaining it and having the foreign ministry spokesman make that ludicrous statement, they are taking what could be a smooth transition [and turning it] into something that is a bit farcical. They are using an old way of thinking in the modern era and it just doesn't work," says Kuhn. "Xi wants to show his reformist nature but this will undermine his credibility."
Before it's here, it's on the Bloomberg Terminal.
LEARN MORE