B-School Startups: Designing Jewelry With Jyoti
Melanie Danko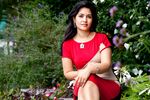 On first meeting, Jyoti Singhvi exudes a sense of comfort, as though you've known her your entire life. That's important; her business relies on this connection. Singhvi, an MIT Sloan MBA grad, is the owner of Jyoti, a luxury bespoke jewelry brand based in New York. Her company, she explains, "is connecting pieces to people."
As a child, Singhvi showed a keen interest in the jewelry trade; not a surprise, considering her family has been in the business for a century and a half. A native of Delhi, India, Singhvi and her family moved to Dayton, Ohio, when she was 16. It was a completely different lifestyle than the one she was used to. There was no poverty and "barely any people," she says, compared with India. Also, Singhvi was quick to notice the simplicity in design of American jewelry compared with the more luxurious, flashy, lavish styles popular in her home country.
After graduating from high school, Singhvi enrolled at nearby University of Dayton, where she earned a bachelor's degree in computer science. She worked for five years in the e-commerce industry, spending time at IBM and BearingPoint, then decided to continue her education. She enrolled in the MBA program at MIT's Sloan School of Management. "I was drawn to MIT because there was a sense of innovative energy," she says.
At Sloan she co-founded the Retail and Luxury Goods Club and began to develop the idea of eventually launching a business. "I participated in a business plan contest in my first year at Sloan," she says. "My business was a jewelry brand, which created one-of-a-kind bespoke jewelry for clients based on their preferences." The concept was innovative and well thought out. Not only did Singhvi win the contest, her plan essentially became the business model she uses today.
While at MIT, she also took advantage of existing class offerings to help hone the skills she would need to start her business; courses like Operations and Luxury, taught by Sharon Novak, Marketing Fundamentals, taught by Duncan Simester, and Luxury Goods and Branding, taught by Renee Gosline. "Being at Sloan gave me an entrepreneurial spirit, in classes, with professors, and networking with my peers," she says.
In conjunction with her MBA at Sloan, Singhvi earned a master's of public administration (MPA) at nearby Harvard. Why the MPA? "After seeing how poverty affected people in India, I took a strong interest in social responsibility," she says.
Upon earning her MBA and MPA, Singhvi took a job at Cartier in New York, where she worked in business development and marketing. In the role she was able to see firsthand how a top global jewelry company operates. Over time, she observed aspects of the business that she didn't like, specifically the lack of customer service, and the fact that so many of the products looked similar. At the same time, she often found herself doodling her own jewelry designs.
After four years at Cartier, she decided it was time to go out on her own. "I knew I wanted to create something different than the signature pieces everyone wears," she says. "I wanted to explore telling each customer's story with a unique piece."
Equipped with a strong family tradition, corporate experience from Cartier, and a business model from MIT, she launched the Jyoti brand in late 2011. Today, Singhvi works one-on-one with customers to learn about their backgrounds and then designs custom pieces that are unique to them. She estimates it takes eight to 12 weeks to create each piece. "The business model is based around connecting people and the things that they do that shape them," she says. "The reception is really great so far. People seem to love the products and the storytelling behind the pieces."
Along with the custom pieces, Singhvi also designs a more accessible line of jewelry. "It's made to order and ready to wear," she says. "It can be bespoke and customized, but it's easier to buy. We're always looking for the next thing we can do for our clients, the evolution of our business. That's being entrepreneurial, that's any kind of business."
As advice to aspiring entrepreneurs: "Discover your passion," Singhvi says. "Discover what you're good at and then look for a problem you can solve. Find your passion and follow it."
Before it's here, it's on the Bloomberg Terminal.
LEARN MORE