This Is the First Twitter Election
by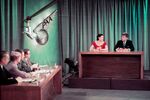 NY Times @thecaucus blog on @MittRomney's #MTP appearance: "Romney has conciliatory remarks on Obama & health overhaul" nyti.ms/RA5TvL
Post-conventions, @johndickerson says Obama getting a little bump, but jobs numbers a "wet blanket." Obama playing on Republican turf
#GOP Rising star @MiaBLove in her first Sunday show appearance says Washington is broken foxnews.com/on-air/fox-new …
@NYTimeskrugman: @PaulRyanVP ' was never a man of substance. ' abcn.ws/O5pFPm #ThisWeek
—Sunday talk show tweets, @sophiajzp/Sunday-Talk-Shows
I clearly remember the moment, that whisper of time when I knew our national discourse was forever changed.
President Obama was holding his first East Room press conference. I could not watch, so I took a chance on Twitter.
I was stunned. Twitter was richer and more informative than television. (The assembled were tweeting on the President's comments and who was being selected to ask questions and who was not.)
I don't watch the Sunday shows. I like parts of them immensely but find much of it … dated.
So by chance that Sunday morning, I was on Twitter. It was as if I were watching all the programs at once with a running smart—repeat smart—dialogue of what was being said and unsaid, plus an informed back story of this 2012 election industry. (The above talk show tweets pale compared to the sophistication of Twitter at 9:48 a.m. on Sunday.
Bonus: The feed was nicely bipartisan, with an argumentative back-and-forth. Bonus Bonus: It was collegial, as the BLOCK function of Twitter forces manners from another time and place.
We are hurtling off the political cliff to 2013 and 2023. We will look back and know that this has been the first Twitter election. Discuss.
Before it's here, it's on the Bloomberg Terminal.
LEARN MORE