Olympic Athletes Extend Their Time in the Spotlight at Fashion Week
Marjorie Lewis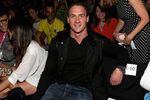 Take one look at New York Fashion Week's front row, and it's clear that Olympians are the season's big gets. So far swimmer Ryan Lochte attended events for such brands as Calvin Klein, Emporio Armani, and Rebecca Minkoff. Sprinter Sanya Richards-Ross teetered her way to BCBG and Peter Som in towering high heels. And soccer player Alex Morgan went to Veronica Beard's presentation—wearing her gold medal.
Having an Olympic darling in the house undoubtedly creates good buzz and commercial potential for a brand since athletes are "instant icons and household names," says Windsor Custom menswear founder Brian Mazza, who wrangled Lochte to host his brand's pop-up shop during Fashion's Night Out. "Olympians are the new stars."
For Olympians, attending the shows is a chance to extend their moment in the spotlight, especially if they are into fashion. "I am inspired when I come to Fashion Week," Morgan says. "It's really about appreciating the culture and seeing the magic happen with designers. They work for years honing their craft, which is similar to what we do."
But for business-minded medal winners, Fashion Week can be about more than just flashbulbs, reporters, bloggers, Twitterers, and being in close proximity to such fashion stalwarts as Beyoncé, Lady Gaga, or Rihanna.
"I think a lot of Olympians think Fashion Week is a fun PR opportunity," says three-time Olympic fencer Tim Morehouse, who competed in London. "When I was invited after Beijing, I thought it was fun to go to the shows. Now I realize there's a lot of business to be done," he says. "It's not just about sitting in the front row. The point of attending Fashion Week as an athlete is that it opens a door to building relationships."
Morehouse should know. He practically invented the brand-building Olympian playbook. After winning a silver medal in 2008, he started trotting around Manhattan's fashion scene. By working it at events, Morehouse took himself from Beijing obscurity to being handpicked to reveal Polo Ralph Lauren's London Olympic gear on the Today show in July.
This summer he also published an autobiography, American Fencer: Modern Lessons from an Ancient Sport; organized his second annual New York City Fencing Masters event, which, with 1,800 attendees, is the largest fencing spectator event in the world; and started a foundation to get his sport in schools across the U.S. And he's been to the White House. Five times. All thanks in large part to elevating his profile through fashion.
To achieve this kind of success, however, an athlete has to be dedicated to the cause. "I don't necessarily think it's that easy for Olympians to cross over into the fashion world," Morehouse says.
That's because Olympians are a fickle type of celebrity. Unlike most genres of boldface names—movie stars; pop stars, reality TV stars; tennis, football, basketball, and hockey stars—Olympians have just one moment of glory (unless you're Michael Phelps—then you have 22 of them) every four years before fading away into the highlight reel. In fact, many Olympic sports themselves fall off the radar until the next games roll around. (Bobsledding, what?) Which is why a blockbuster event like Fashion Week creates a unique opportunity. "The fashion industry is a potential vehicle to get a little more well-known and position yourself outside the sport before the next Olympics," Morehouse says.
That's why Morgan sees a benefit in attending Fashion Week. "I have always had an interest in fashion and in looking good, both on the field and off," she says. "I work with young girls all of the time, and I try to influence them in a positive way. I show them that sports can help you gain confidence and improve all aspects of your life, and that looking good and taking care of yourself transcends. I tell them that we can be both: athletic and glamorous."
Whether any of this year's Olympic athletes will create lasting relationships with brands during this Fashion Week remains to be seen. "There's certainly the opportunity," Morehouse says, "but it is something you have to work at."
And fashion houses should also keep in mind that athletes are great ambassadors for reasons other than their fame. Like most athletes, Morgan says, "I am very picky about fit, fabric, and function." So if they wear it, you know it's a good fit.
Before it's here, it's on the Bloomberg Terminal.
LEARN MORE