From Credit Suisse to Jerky: One Man's Dried Beef Odyssey
By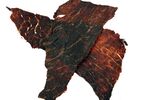 Ryan Turri grabs a few ice cubes, plops them in a tumbler, and then pours a healthy amount of whiskey into the glass. It's a weekday evening and he's relaxing in the library of a San Francisco mansion that he rents along with several friends. Turri used to work for Credit Suisse, pushing IPOs to hedge funds and mutual funds. Today he's trying to build a homemade beef jerky empire. "I really wanted to do something that I didn't know that much about and that was different and challenging," Turri says, taking a pull on his whiskey, while the Golden Gate Bridge fills the window behind him. "I definitely got that with beef jerky."
Turri, 30, has been on something of a beef jerky odyssey. He wants to make all-natural jerky free of the preservatives found in your typical, gas station fare. That means no little plastic pouch at the bottom to keep out the moisture, and it means solving a host of chemistry problems and clearing lots of additional government regulations. This is the story of Turri's jerky and just how hard it is to sell some dried beef in 2012 America.
"There's a fellow in Sonoma who makes a pretty natural product. It's very different than anything on the market. I tried to work with him or buy his business, but he's a nice, old Italian man who didn't want to sell. So I said, 'Screw it. I will figure it out on my own.' I bought a small industrial smoker and started doing batch after batch."
Your typical beef jerky has a lot of soy in it, and to counteract all the sodium from the soy, jerky makers add a lot of sugar. "You lose all of the taste of the meat," says Turri, who comes off as a super laid-back, jovial sort. "So I went through 400 to 500 marinades with all types of different flavorings to figure out my key ingredients." Indeed, one room of the mansion hosts Turri's flavor station—a setup full of spices, ciders, juices, and vinegars.
The basic premise behind jerky is drying the meat out to reveal a concentrated flavor. This means you need high-quality meat, and Turri found that store-bought slabs did not meet his standards. "The way the animals are raised with chemicals and hormones and purely bred on corn results in an end product that is just terrible," Turri says. "We found a distributor in New Jersey who gets grass-fed beef from New Zealand."
With his beef and recipe selected, Turri began his quest to get U.S. Department of Agriculture clearance about a year ago. "Trying to make a product that doesn't have any unnatural preservatives and can still pass the USDA tests is pretty difficult. What they care about are the unbound water molecules in the meat left over after it dries. They will bind to parts of your marinade like the sodium in the soy sauce. But since I didn't have soy sauce, it made it more tricky for my marinade to bind with something. They basically wanted me to get the jerky to the point where it becomes hard like a potato chip, and that's just not appealing."
Turri has worked with food scientists and processing plants in the Bay Area to come up with techniques that will keep his jerky moist and still meet the USDA's restrictions. Now he just needs a partner to execute the techniques to precision. "There's a guy in Sacramento who is super secretive, so he won't let me oversee the process. I have to write everything down and give it to him. Then there's another guy in Caron City that I'm hoping to schedule some time with to do some test batches. He seems a little more open and has a facility that's only at 60 percent capacity."
As for the name of Turri's jerky? Well, it's Grass Roots Jerky. He owns the website—but hasn't set it up yet—and has the packaging all ready to go. "My product could be really good if these guys at the plants would just let me run the process," he says. "I've looked into creating my own USDA facility, but it's so time-consuming and expensive to get all the permits. It's at least $1.2 million to get your own facility."
To stay sane during this drawn-out process, Turri buys old sports cars, cleans them up, and then flips them. He also spends weekends racing and crashing clunkers.
Turri's house in San Francisco is full of entrepreneurial types chasing their own dreams—iPad cases, databases, and robots. "I've been doing beef jerky for a year and a half and sometimes it feels like you make no progress," he says. "It's nice to be able to sit down with someone late at night and walk them through your thinking and get some feedback. No one has a handbook on how to start a beef jerky company and buy and sell old cars to support yourself in the meantime."