Favorite Professors: Richmond's Joe Hoyle
Kate Abbott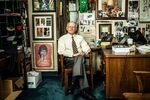 Joe Hoyle
Robins School of Business, University of Richmond
Undergraduate Courses Taught: Introduction to Financial Accounting, Intermediate Financial Accounting II
Richmond accounting professor Joe Hoyle has a blog in which he shares his views on education; two recent posts are titled "Reprogramming Students," parts I and II. For a prospective pupil, this may be intimidating, but the blog is one way Hoyle shows his passion for education.
Students enrolled in Hoyle's classes for the fall have already heard from him twice via e-mail (once in April and again over the summer) to share the course syllabus and expectations. Hoyle teaches his accounting courses using the Socratic method, asking students questions for an hour straight, three times a week. This might explain why—a few years ago at the spring dinner for senior business students—he received two awards: Richmond's 'scariest professor' and the professor who 'cares the most.'
Some of Hoyle's favorite assignments don't involve any accounting. Last year he received free tickets to the opera and gave his freshmen students extra points as an incentive to attend. "It had nothing to do with accounting," he says, "but will they be better people because they went to the opera? I think so." He also requires students to share their favorite books, which he compiles as a list and distributes to each class at the end of the semester.
Hoyle began his career as an accountant but wanted a job with more flexibility, so he turned to teaching. He joined the faculty at the College of William & Mary in 1976, then moved to Richmond in 1979. He holds a B.A. in accounting from Duke and received his MBA from Appalachian State University in 1972.
Students say:
—"Brilliant. I learned more during this class than the rest of my entire college career. He knows how to stimulate your interest in the subject and will not accept anything less than perfection. The hardest course I have ever taken, but he teaches you how to think. Socratic Method is boss."
—"His passion for financial accounting is contagious. He motivated me to not only deepen my knowledge of accounting but also to be an individual of diverse interest and to seek out opportunities to engage society through books, theater, and relationships."
He says:
"When I told my students that I was never going to lecture again—that I was only going to ask questions—they looked at me like I was from Mars. The questions are as weird as I can make them. The idea is that I'm forcing them to think about things in a different way."
Editor's Note: This profile is part of Bloomberg Businessweek's series on favorite undergraduate business professors. Subjects were chosen based on feedback collected in Bloomberg Businessweek's annual survey of senior business students. The featured professors were the ones most often mentioned by students as being their favorite. Student quotes come directly from the student survey.
Before it's here, it's on the Bloomberg Terminal.
LEARN MORE