As Taxes Rise, France's Richest Man Eyes Belgium
By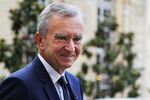 France is the global capital of luxury and fashion. Belgium is famous for, uh, mussels, fries, and European bureaucrats. So it's no surprise that luxury mogul Bernard Arnault has created an uproar by applying for Belgian citizenship—just as French President François Hollande is planning a big tax increase on the wealthy.
Arnault, who runs luxury giant LVMH Moët Hennessy Louis Vuitton and is France's richest man—with an estimated net worth of $25.7 billion—on Sept. 9 confirmed news reports from Belgium that he applied for citizenship there earlier this month. He said he would retain his French citizenship, though, and promised to continue paying French taxes, including the planned new 75 percent rate on incomes of more than €1 million ($1.28 million). "Our country must be able to count on everyone's contribution to face the deep economic crisis," Arnault told Agence France-Presse.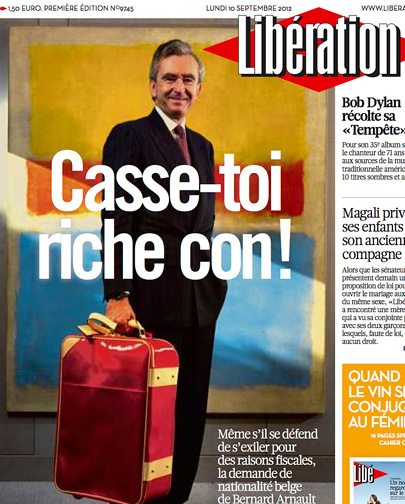 The reaction to Arnault's Belgian application from his countrymen was swift and scathing. Marine Le Pen, leader of the right-wing National Front, called his decision "scandalous." The left-wing newspaper Libération published a front-page photo of Arnault carrying a fancy red suitcase, next to a headline saying, "Get lost, you rich jerk!" LVMH replied that Arnault would sue the newspaper for what it termed "vulgarity" and "violence."
Hollande chided Arnault in a nationally televised interview on Sept. 9, saying he "should have reflected on what it means to ask for another nationality, because we are proud to be French." Hollande called on Arnault to show "patriotism," although he said the billionaire's promise to continue paying French taxes was "the right correction."
The explanation offered by an LVMH spokesman—that Arnault is seeking dual citizenship because he plans to make investments in Belgium—doesn't make much sense. A spokesman for Invest in Wallonia, one of three regional agencies that promote investment in Belgium, says foreign investors enjoy the same fiscal and regulatory treatment as Belgian citizens do. "There are no advantages" for Belgian nationals, he says. "None."
Nor does it seem likely that Arnault is making some kind of protest statement. Although he is a longtime ally of former conservative President Nicolas Sarkozy, the LVMH boss has scrupulously avoided speaking out on political issues over the years. Indeed, he told AFP that his request for Belgian citizenship "must not be interpreted politically."
Arnault's promise to "remain a French fiscal resident" seems to rule out the possibility that he plans to live in Belgium, which would free him not only from French income and inheritance taxes, but also from a wealth tax that France imposes on individuals whose net worth exceeds €1.3 million. No other country has such a levy.
But Arnault's assurances were thrown into question by the mayor of Uccle, an upscale community near Brussels, who said the French billionaire had already moved there and had made clear his unhappiness with French taxes. "Mr. Arnault came to see me at the end of last year, wanting to be domiciled here, to live here," Mayor Armand de Decker told the newspaper La Libre Belgique on Sept. 10. "He has a feeling about the policies of his country, which he considers unfriendly to business," de Decker said.
Arnault wouldn't need to be a citizen of Belgium to take advantage of its more favorable tax regime. French citizens who move outside their country aren't subject to French tax laws. If Arnault were to spend the majority of his time in Belgium, he would automatically be subject to Belgian taxes, says Michel Maus, a professor of fiscal law at Vrije Universiteit Brussel.
Why seek Belgian citizenship, then? One possibility, Maus says, is that Arnault could renounce his French citizenship and then move to Monaco, which allows Belgian nationals—but not French—to live there tax-free.
First, though, Arnault would have to get Belgium to approve his citizenship application. That might not be as easy as it sounds. French rock star Johnny Hallyday sought Belgian citizenship a few years ago, in what was widely seen as a move to escape French taxes. He was turned down, even though his father was Belgian. Hallyday moved to Switzerland instead.
Before it's here, it's on the Bloomberg Terminal.
LEARN MORE