Apple and Amazon Make This a Very Different Nasdaq
by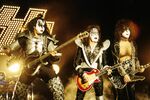 As we contemplate the once-iconic Nasdaq at a 12-year high—how Apple and Amazon have picked up where Cisco and Intel flamed out—take in this true story: In December 1999, while working at Goldman Sachs, I accepted a colleague's invitation for dinner at one of Manhattan's pricier Chinese restaurants. This tony place touted a chicken dish one had to order 24 hours in advance; it was encased in clay soil and irrigated with rose petal liqueur.
One sumptuous meal later, a tuxedo-clad waiter accepted our corporate cards. He turned around and took a few steps before quickly returning to the table to ask us something … that we could not for the life of us comprehend. The waiter giggled and turned around, before again U-turning back to our table to take another crack at his query. The poor man's English was beyond tortured. Did they not accept American Express? The bill folder said otherwise.
"Sir," I said, "you didn't even try to run our cards. Is your credit-card reader down?"
He chuckled and blushed. We summoned the maitre d' to ask what was going on. After the two tuxes huddled for 30 seconds, the maitre d' walked up to us and said, "He would like to know what you think of the Qualcomm stock."
The 20/20 hindsight moral of the story: It was a choice time to sell stocks—like, all of them. And if you needed an exhibit B, a New York cabbie day traded tech names on his dashboard. Remember Joseph Kennedy's infamous shoeshine-boy epiphany?
If only I had sold. On March 10, 2000, the Nasdaq composite peaked at 5,132.52, having quintupled in just five years. It then collapsed in spectacular fashion, hitting 1,100 in October 2002. Turns out the world was way too prematurely exuberant about telecom spending, IPOs of loss-laden dot-coms, and price-earnings multiples that dared touch the surface of the sun. Microsoft, Cisco, and Intel were not, in fact, indefatigable.
Still, I find myself nostalgic for dot-com New York. Everything was so possible. In the summer of '99, launch parties booked up boutique hotels and fine restaurants. There were even courier services that would bring you a 99¢ pack of thin mints to your door, free delivery; business models were as whimsical as they'd ever be. And why not? The economy and national mood were giddy.
I was thinking about this after the Nasdaq touched levels on Sept. 6 it had not seen since November 2000, when the nation was transfixed by Florida's hanging chads. Yes, that's 12 years, and we're still nearly 2,000 points off its all-time high—and might not see that for years—but still: Apple, Amazon, and Google have picked up where the old "horsemen of tech" left off.
Apple, the planet's most valuable company, is the biggest single mover of the U.S. stock market. But unlike 2000-vintage Cisco and its triple-digit forward earnings multiple (Cisco was worth $557 billion at its peak, $100 billion now), Apple is now worth $640 billion and sports a p-e in the mid-teens.
Back in the day, a bad Intel report like the one issued Sept. 7 would have cratered the Nasdaq. Today, Intel's clout has been so eclipsed by the Apple-Amazon-Google horsemen that the index barely budged on the news.
It's such a completely different market than it was 12 or 13 years ago. Investor sentiment is chronically depressed. No one is standing outside the big, bad, garishly lit Nasdaq marketplace in Times Square, squinting for their portfolio tickers on the big LCD wall.
Yes, I'm a relic: Nasdaq 3,000 has me wondering what that day-trading Chinese waiter is doing. And how many perfumed 24-hour chickens the restaurant sells in these decidedly ungiddy times.
Before it's here, it's on the Bloomberg Terminal.
LEARN MORE