What Went Down at the Conventions
By and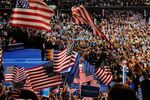 Now that the biggest political dog-and-pony shows of the year have ended, we decided to compare notes about what each of us saw at the conventions. Some big differences were on display in Tampa and Charlotte, and some unexpected similarities.
The crowd was way more hyped up at the DNC: The temperature on the convention floor in Charlotte was feverish. The Dems cheered wildly for even the mediocre speeches (heck, they gave a standing ovation to Beau Biden before he said a word and long before he made his father tear up). In interviews on the floor, Republicans talked about how excited they were about Mitt Romney, but the level of enthusiasm they actually exhibited told a different story. After Paul Ryan, arguably the best speaker, finished his speech, the delegates shuffled right out—not staying behind very long to cheer. The Dems couldn't stop clapping.
The GOP paled, literally, when it came to diversity: With just a few exceptions, the convention floor in Tampa was a sea of lily-white and middle-aged faces. Given demographic trends, that doesn't bode well for the GOP's future. Not only were more ethnicities represented in Charlotte, the crowd there appeared more diverse than voter registration rolls currently show the Democratic party's makeup to be. According to the Pew Research Center, 61 percent of registered Democrats are white, while nearly four-in-10 are African American (21 percent), Hispanic (10 percent), or another race (7 percent).
There's success, and then there's success: Each party told a version of the success-through-struggle story, with the Republicans focusing more on the everything-worked-out aspect. Politicians and business owners told stories of toiling hard to build family businesses, but besides Florida Senator Marco Rubio, they didn't share details about suffering and being poor. Democrats zeroed in on hardship. Elizabeth Warren, daughter of a maintenance man, recalled, "I was waiting tables at 13 and married at 19." Michelle Obama said she and the president came from humble means and were able to flourish with strong values and support of institutions such as public schools.
Everybody has a good story about Dad: The First Lady talked about waiting with her brother at the top of the stairs for their dad to come home from work as a pump operator at a city water plant (he had multiple sclerosis and used a walker, so the walk up the stairs was slow and painful). The GOP's Rubio described hearing the jangling of the keys as his father returned from working 16-hour days as a bartender. Want to sound patriotic? This is a tried-and-true crowd pleaser.
Politicians' kids are so darn cute: When Ryan first walked on stage in Tampa, news cameras panned to his family. One of his daughters saw herself on camera and quickly ran off. Democratic San Antonio Mayor Julian Castro's three-year-old daughter saw herself on camera and began flipping her hair as if she were in a Pantene commercial. It can be unsettling to see politicians overexpose their kids, but these candid moments made us, at least, forget politics for a moment.
Private equity is a job-creator, and a job-killer: Not surprisingly, each party tried to paint a very different picture of Mitt Romney's tenure at Bain Capital. In Tampa, Staples founder Tom Stemberg said his business wouldn't exist if it weren't for Bain. "The truth is Mitt was not a typical investor. He was a true partner. … He saw the engine of prosperity [Staples] could become." The Dems trotted out people who lost their jobs when Bain bought their employers. Joe Biden branded layoffs "the Bain way," and the crowd ate it up.
Where are all the protesters? The only protesters at the Republican convention were supporters of Ron Paul, the liberty-loving Texas congressman whose fans could not relinquish the idea of him becoming president. They played trumpets and waved flags and signs in Tampa's streets. Inside the hall, they got into shouting matches with Romney supporters. Yet the ruckus was no match for the 2004 GOP convention in New York City, when hundreds of thousands of angry Iraq war protesters took to the streets. In Charlotte, a handful of anti-abortion evangelists ambled about carrying signs with images of dead fetuses and quoting scripture, and a few skirmishes occurred between police and Occupy protesters—a small group of Occupiers.
A thousand security checks and hundreds of cups of coffee later, we're ready for the last 60 days of this campaign.
Before it's here, it's on the Bloomberg Terminal.
LEARN MORE