How a Cat Meme Became a Fine Art Auction in Brooklyn
Spencer Bailey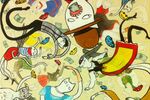 About four years ago, when Will Zweigart saw an image of a crying child sitting on the lap of a man dressed in a Santa suit, he knew he'd struck Internet-meme gold. From there, he bought a domain name—SketchySantas.com—and asked Internet users to submit awkward, often inappropriate Santa-lap photos from their childhoods. Submissions came in droves; the site's content grew rapidly. So did the number of visitors. Zweigart later landed a book deal with Simon & Schuster, and he went on to sell the meme to the Cheezburger network. "I did a book, it was in Urban Outfitters, and all that good stuff," says Zweigart, 33, who lives in New York and works full time as the director of the social-media agency 5Loom. "But the user didn't really win there."

Zweigart's next site, he decided, would be on his terms—and remain that way. It would also source creative minds from across the Internet. The users, in other words, would win. "[Sketchy Santas] was digging through your old photo bins," he says. "I wanted to do something where people create something."
His next idea for a meme became Cashcats.biz, a Tumblr blog that features user-generated photos of cats and money, and capitalizes on the Internet's bottomless thirst for cat photos. The site, which launched 19 months ago, now gets about 3,000 hits a day. Zweigart's posted roughly 275 photos so far—culled from more than 1,000 submissions, he says—and its Facebook page has nearly 8,500 fans. "The real point of it was to take all the different facial expressions of cats and recontextualize them around symbols of money and power," Zweigart says. "I thought it'd be fun to create something a little bit more upmarket, like a VIP room for wealthy cats with some exclusivity around it. What happened after that, I felt, was art. These photos, I was picturing them in a gallery or a real nice coffee-table book."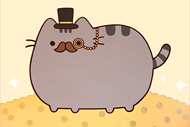 Last night, Zweigart took the Cashcats idea further. With the help of Tumblr, he brought his meme into the real world and hosted "How the One Purrcent Really Live," an exhibit and auction in Brooklyn's Dumbo neighborhood of 18 artworks sourced from artists who, it turns out, also happen to be fans of the blog. "To my knowledge, this is the first time we've seen an art show based on a Tumblr blog," says Amanda Ferri, 29, who handles community outreach at Tumblr, adding, "The Tumblr community really encourages creativity, and it encourages participation. As much as it's a blogging platform, there's a social aspect."
That social aspect was made more than evident by the show's large turnout of mostly 20- and 30-something attendees who milled about the space, sipping champagne and beer while bidding on the pieces on display. Also for sale at the event were 32 framed prints of images from the blog, available for $40 apiece, plus four custom-made, Cashcats-theme-emblazoned denim jackets, one adorned with the word "Pussy," for $100 each. (Part of the proceeds went to BARC, a no-kill pet shelter in Brooklyn.)
The artworks up for bid included New York-based artist Nic Rad's "Catlas Shrugged," an oil painting of a mustachioed cat holding the classic Ayn Rand tome; Lakewood (Ohio)-based artist Chod's "25 Dollar Pussies," made of black ink scrawled over U.S. currency; and "Calico vs. Calico (M-950)," an acrylic painting by Kit Garcia, a 40-year-old Austin (Tex.)-based acupuncturist and therapeutic-art teacher. Of the Cashcats meme, Garcia, who flew to New York in part to attend the event, says, "It does fascinate me on some level. Cats seem to intrinsically, instinctively know that money's important to us, but they just sit on top of it."
Lisa Hildebrant, 31, a Portland (Ore.)-based freelance illustrator and artist who made four pieces for the show—including "Fat of the Land," a neon cat inside a recycled wood box, and "Our Daily Bread," made of leaded stained glass, enamel, and a fluorescent light—says, "When I first looked at Cashcats, I just laughed. I just thought it was funny. I had no sociological or intellectual idea about what was going on. I like when animals do things, like when dogs walk down the street in stilettos. It's funny. When I spoke with Will about it, though, he said, 'This is really about the 1 percent.' He put this sociological brilliance behind what his idea is. I was definitely onboard from there. That's when I decided to push it."
To Zweigart, the site's evolved into much more than just another goofy cat meme. It's exclusive and artistic—a gallery-like space for people who love photos of cats, money, and cats with money. "It's getting real," he says of Cashcats's evolution into fine art. "None of these artists knew what anyone else was submitting, and there's this really deep vibe around the work: what we call 'Feline Wealth Inequality.'" Of the prints and works on display, Zweigart adds: "I guess they're all aristocats, really."
Sophie Weiner, 22, who attended the event and works in social media for the website Flavorpill and moonlights as a DJ, thinks Cashcats appeals simply for its dumb humor. "I don't know if it says anything about the economy," she says. "I feel like it's a pretty message-less thing. It's just Internet absurdity, comedy, and obviously everybody on the Internet loves cats."
Even Zweigart will readily admit that Cashcats, as a concept, is completely, utterly absurd. Which is exactly the meme's brilliance. As Amanda Ferri of Tumblr puts it, "Why would cats need money? Cats don't need money. There's no reason for a cat to be hanging out with money, just like there's no reason for money to be hanging out on the floor around a cat. Both are just ridiculous." And both, apparently, make for desirable fine-art pieces: Zweigart's auction and merchandise sales fetched more than $2,000.
As for unveiling his next Internet-meme sensation, Zweigart says, "I have a huge bucket of lists, but I can't share any of them right now. I've been so laser-focused on getting through this show."
Before it's here, it's on the Bloomberg Terminal.
LEARN MORE