Gazprom's Turmoil, From Rivals to Prices to an EU Probe
by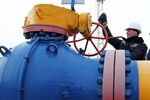 Is this the end of Gazprom as we knew it? For years, the world's largest natural-gas company has kept Europe hooked on Russian gas supplies, while enjoying a near-monopoly in its home market.
Suddenly, though, Fortress Gazprom seems to be under assault from every direction. On Sept. 5, European Union authorities announced an antitrust investigation of Gazprom's long-term gas supply contracts in Central and Eastern Europe. The next day, the company announced first-quarter profits fell 24 percent to 357.8 billion rubles ($11 billion), as European exports slumped and some customers renegotiated contracts to win more-favorable terms.
Back in Russia, rivals such as NovaTek and Lukoil are starting to poach some of Gazprom's business. And the company recently delayed a planned investment in the Shtokman gas field in the Arctic, as shale-gas development and the increased availability of liquefied natural gas worldwide have depressed prices, making the Arctic project uneconomical. "There is a whole chain of events happening with the company," says Ekaterina Rodina, an oil and gas analyst at VTB Capital in Moscow. "I can't see how they can turn all these negatives to positives."
Gazprom shares have fallen 9 percent this year and are about 60 percent below their level in 2007, before the start of the global economic crisis.
The latest worry is the EU investigation, which targets Gazprom pricing policies in Poland and seven other former Soviet-bloc countries where it supplies as much as 70 percent of gas used by some utilities. The allegation is that Gazprom overcharges customers by linking gas prices to the price of crude oil—rather than to spot gas prices, which are lower—and by hindering customers from trading among themselves and finding alternative suppliers. Gazprom uses "an unsustainable price formula which makes its gas the most expensive in the market," analysts at Credit Suisse wrote in a recent research note.
In an e-mail to news organizations after the EU announcement, Gazprom said its pricing policies were "in full conformity with legal standards." Dmitry Peskov, a spokesman for Russian President Vladimir Putin, told Bloomberg News that the company had applied a widely used pricing formula for many years. "It's not clear why this suddenly has become a subject of investigation," Peskov said.
Gazprom, however, has already backed down in the face of similar complaints from Western Europe. It has agreed to give retroactive price cuts to some customers, including 78.5 billion rubles ($2.4 billion) in refunds paid during the first quarter of this year. At the same time, the sluggish European economy has dampened demand for gas; sales to Europe fell 3 percent during the first quarter.
The shale-gas boom makes it hard for Gazprom to find business elsewhere. Thanks to shale gas, the U.S. has surpassed Russia as the world's top gas-producing nation and won't need to import gas for the foreseeable future. China and other countries are ramping up shale production, too. Gazprom "had a head-in-the-sands approach to shale gas, saying it wouldn't be sustained," says Andy Flower, a British consultant on the global gas business.
Yet another headache for Gazprom is the loss of domestic business to competitors. NovaTek, an independent Russian gas supplier, recently won 15-year agreements to supply Russian subsidiaries of German utility E.ON and Finnish energy group Fortum.
Still, Gazprom remains a formidable contender, with 18 percent of global gas reserves, annual sales of more than $150 billion, and the Kremlin as its majority shareholder. One likely target for expansion is Asia: Japanese news agency Nikkei reported on Sept. 7 that Gazprom and a consortium of Japanese companies plan to build a liquefied natural gas facility in Vladivostok, a port in the Russian Far East. Output from that facility could easily be shipped to Japan, South Korea, and China.
Before it's here, it's on the Bloomberg Terminal.
LEARN MORE