B-School Highlights: Sept. 7
Francesca Di Meglio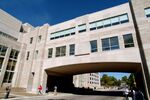 Students from 17 European countries competed in the University of Toronto Rotman School of Management's European Trading Competition, where they executed trades on a stock market simulator in "open-outcry" trading pits like those at the world's major stock exchanges, according to a Sept. 5 announcement. Hosted by LUISS Guido Carli University in Rome, the two-and-a-half-day event also featured five case competitions. BI Norwegian Business School came in No. 1 overall.
Columbia Business School appointed Amanda Carlson as assistant dean of admissions for the MBA and executive MBA programs, according to a Sept. 5 announcement. Before joining CBS in 2002, she worked in campus recruiting for McKinsey. The school also announced that it received a $25 million gift from an anonymous donor. The money will be used to help fund the construction of a new home for the school on the Manhattanville campus and bolster Columbia's Social Enterprise Program.
To kick off its centennial, the DePaul University business school will host a dedication ceremony Sept. 19 to rename itself the Richard H. Driehaus College of Business in honor of the alumnus and investment pioneer, who donated $30 million to the school in February. Founded in 1913, the school was among the first 10 business colleges in the U.S.
The Kelley School of Business at Indiana University revamped its undergraduate curriculum to include courses focused on ethics, global business, and critical thinking. In addition, it launched Kelley Compass, which pairs students with both a career and academic adviser and requires them to take three sequential courses: the Individual, which is about self-assessment to determine a career path, the Team, which helps students build team-working skills, and the Professional, which prepares them for decision-making in the real world.
As part of orientation at the end of August, incoming MBA students at University of Michigan's Ross School of Business participated in the Ross Impact Challenge. During the challenge, they worked in teams to create a for-profit venture that has economic and social value in Detroit.
Join the discussion on the Bloomberg Businessweek Business School Forum, visit us on Facebook, and follow @BWbschools on Twitter.
Before it's here, it's on the Bloomberg Terminal.
LEARN MORE