Airplane 'Geeks' Eagerly Await Dreamliner's Domestic Debut
By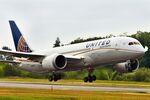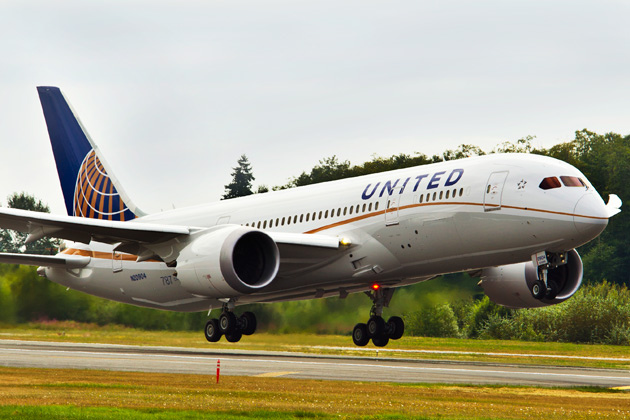 As far as fetish parties go, this one will be rated G: Airline enthusiasts are strategizing to book seats on the first domestic U.S. 787 Dreamliner service this fall.
Boeing's innovative long-haul jet is built of composite fiber materials that make it lighter than traditional metal airplanes, thereby offering reduced fuel burn. United Airlines has 50 of the planes on order and will be the first U.S. carrier to fly the jet, which is equipped with larger windows and cruises with higher humidity than on other planes, which can lessen fatigue on long flights.
The airline has begun an elaborate marketing campaign around its newest airplane, which will take flight on a Sunday morning, Nov. 4, at Houston's Bush Intercontinental airport when United Airlines begins its 787 service with a 7:25 a.m. flight to Chicago.
For airplane geeks, Nov. 4 is shaping up to be a historic day. The thrill of nabbing a seat on the first 787 U.S. domestic flight is hard to overstate, says Darren Booth, a travel blogger who lives in Los Angeles and contributes to CNBC in addition to his own site.
"On November 3rd, I'm flying out from LA to Houston, and I'll overnight there, and then on the 4th … I'm flying Houston to Chicago and then back to Houston and then on to LA, all on the 787," Booth said. "So I'm really looking forward to this."
So is Bruce Bere, 24, who left his job as a futures trader in Chicago last year to work at O'Hare "just throwing bags" for United as a way to gain flight benefits and indulge his passion for air travel.
On its flights, United has begun showing a 787 promotional video before its regular safety video, featuring employees touting advantages of the new plane, including Chief Executive Jeff Smisek, who calls the 787 "a quantum leap in technology." Continental, which later merged with United to form the world's largest carrier, placed its initial 787 orders in March 2007.
The plane was conceived in 2003 after Boeing shelved its futuristic Sonic Cruiser, moving the design from one of greater speed to better operating efficiency. The company formally launched the program in April 2004. Boeing says the 787 gives airlines a roughly 20 percent lower operating cost per mile, which has led to an order book of 824 787s, making it one of the hottest sellers in the company's history.
To date there are 21 787s in the skies, being flown by only five airlines: Japan's two largest carriers, All Nippon and JAL; Ethiopian Airlines; Chile's LAN; and, as of Sept. 7, Air India.
United plans to use the 787 on routes among its domestic hubs until January, when the plane will move to international routes. The first two will be a daily Los Angeles-Tokyo nonstop and a Houston-Lagos, Nigeria, flight five days per week. United also plans 787 service to Shanghai, Amsterdam, and London.
Like Booth, Bere is an avid aviation blogger and is booked in first class on the Nov. 4 flight from Houston to Chicago. "The attention it's getting is mainly from the aviation crowd," Bere said on the telephone, an hour before hopping a flight to New York just so he could sample United's p.s. service on a flight to San Francisco. "If you talk to anyone else right now, who maybe wasn't that into aviation, they just booked it, you know, without knowing it was the first one."
One worry for enthusiasts like Booth and Bere is that Nov. 4 isn't likely to be, technically, United's true inaugural 787 flight. That's because the airline will be moving its first two 787s around its network in the days before then, probably with paying passengers. "The actual inaugural will be in October, and I am trying my damnedest to get on that one," Booth says.
Before it's here, it's on the Bloomberg Terminal.
LEARN MORE