Worldreader: Taking the E-Book Revolution to Africa
Worldreader aims to deliver 1 million digital devices
by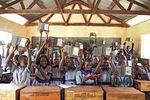 Throughout the 1990s, David Risher helped make high-tech history. As an early executive at Microsoft, he managed the company's database products and led development of the first version of its investment-planning software. He then left for an e-commerce startup called Amazon, much to the displeasure of Bill Gates. Working alongside Jeff Bezos for the next five years, Risher ran Amazon's booming retail business and watched the company take its first few steps into the world of digital reading.
He left Amazon in 2002, and after a decade of world travel and philanthropy now has a grand vision of bringing free e-books to kids in Africa. His nonprofit, Worldreader, is shipping Amazon's single-purpose Kindle reader to schools and communities in sub-Saharan Africa with a near-term goal of providing 1 million e-books to children in the largely English-speaking countries of Ghana, Uganda, and Kenya in the next year.
In early September the effort got a boost when it raised $300,000 from Draper Richards Kaplan Foundation, the philanthropic arm of several prominent Silicon Valley venture capitalists, bringing Worldreader's fundraising total to $1.5 million. "David is pushing a fundamental conversation: How do you create a culture of reading in a place that hasn't had one?" says Anne Marie Burgoyne, the foundation's managing director. Risher say he hopes to raise $2 million to buy e-readers and to hire staff by the end of the year. "The opportunity to get books into kids' hands right now is limitless," Risher says. "It's always been held back in the past by logistics, but now the costs are getting lower and lower."
Risher got the idea for Worldreader during his extended sabbatical from high tech. While bringing supplies to an orphanage in Ecuador, he saw a padlocked local library. The school had lost the key, but no one much cared because the books locked inside were dated and irrelevant. "The kids didn't care about the 1972 version of the Encyclopaedia Britannica," he recalls.
Risher moved his family back to the Bay Area to start Worldreader. While the concept is simple, the execution has been anything but. First, Risher needed to convince Amazon to donate 900 Kindles. Then he persuaded Amazon's hardware engineers to work on reinforcing the casing of the donated devices so they don't succumb to the harsh environmental conditions of the region. Worldreader also uses special software so that every few weeks free e-books can be wirelessly delivered over cellular networks to kid's devices.
Finally, Risher needs to persuade local governments and schools to try out the project. He has made some progress convincing publishers such as Simon & Schuster and Penguin to make young reader series like the Hardy Boys, Nancy Drew, and the Roald Dahl books available for free in a part of the world where their books aren't usually available and real sales are negligible.
About 1,000 African children currently have the Worldreader Kindles, with more on the way. Risher calls it a 20-year vision and thinks Worldreader can be a catalyst for other philanthropic groups and governments. The U.S. Department of State seemed poised to follow his example, announcing in June a pilot program to purchase 2,500 Kindles as part of its own global e-reader program. But the initiative, which had not been opened to other e-reader makers, wilted under criticism that it didn't take into account the needs of sight-impaired people and the government was playing favorites in the competitive e-reading market.
Risher hopes the government program will ultimately happen and says Kindles offer the best connectivity options outside the U.S. "I think 20 years from now we should live in a world where any child should have the books he wants or needs to improve his life," he says.
Before it's here, it's on the Bloomberg Terminal.
LEARN MORE